Melbourne's Best Skip Bin Hire Prices
WM Waste Management is proud to offer affordable skip bin hire prices for homes and businesses around Melbourne.
When renovating your home or office, you're bound to have an abundance of rubbish and materials that need to be removed. Whether it's an indoor or outdoor revamp, the amount of waste you'll be left with will likely be much too great for your standard garbage system.
So what do you do to cater for so much excess waste? WM Waste Management Services is here to help – we provide affordable skip bins hire costs in Melbourne. Our range of different skip bins ensures we have exactly the size and type that you're looking for.
How much does it cost to hire a skip bin in Melbourne?
The skip bin hire prices that we have are dependent on several different factors – your location, the type of bin that's needed, and the size of the bin. Click here to get an instant quote catered to your details and book one of our skips or walk-in bins.
The final cost of hiring a skip bin will depend on several things, including materials being removed, the size of the bin, and where the bin needs to be delivered to.
You can get a rough idea of costs in the table below:
Are you looking for cheap skip bin hire prices?
It's not only renovation jobs that require a larger waste collector. You'll very likely be in need of one if you are:
Working on a construction site and have a lot of runoff materials
Upgrading furniture, appliances, and other bulky homewares and aren't looking to sell or give away your existing items
Giving your garden a facelift and have lots of green waste you need to have removed
For these reasons and more, our skips and walk-ins are simply a perfect solution.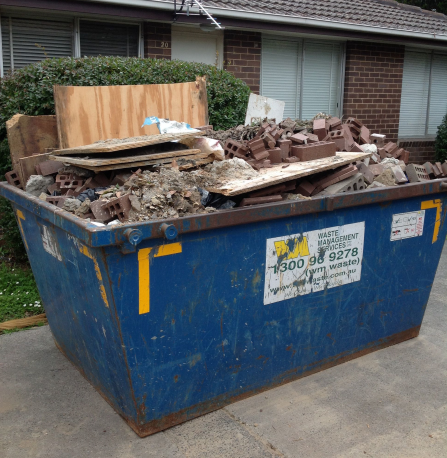 What can you throw away?
Skip bins are best suited to handling organic and inorganic materials from construction, gardening and miscellaneous household waste. WM Management Services skips can dispose of:
Light and mixed-used for materials such as green waste, homewares and appliances, wood, tin and plaster
Concrete – specifically for concrete material
Bricks – this is only to be used for bricks
Green waste – only green waste is allowed, such as prunings and garden waste
Concrete rubble – for removal of concrete, tiles, and bricks (you can mix different materials)
Heavy – exactly the same as the concrete rubble option except this also includes dirt
Soil – solely to be used for soil removal
What can you not throw away?
Some things do not belong in skips. These include hazardous materials, dangerous liquids and organic materials that decompose quickly.
Asbestos, chemicals and liquid waste are a detriment to people and the environment.
Oil (including oil-based paint), food, and tree stumps can't be recycled, and cannot be thrown in a skip.
Tyres and gas bottles also need to be disposed of in a responsible manner – not in a bin.
Water-based paint does have a recycling option by taking it to a transfer station.
Oil should not be put in a skip. If you only produce a small amount of used oil from vehicles or farm machinery, you can take it to your local used oil facility run by your local council or shire. Usually the facility will be located at the landfill, waste transfer station or works depot.
Speak to us today
If you're in need of any further information regarding our bin hire costs in Melbourne please feel free to call us on 1300 969 278 (1300 WM WASTE). Or if you'd rather, you can send us an online enquiry and we'll respond ASAP.