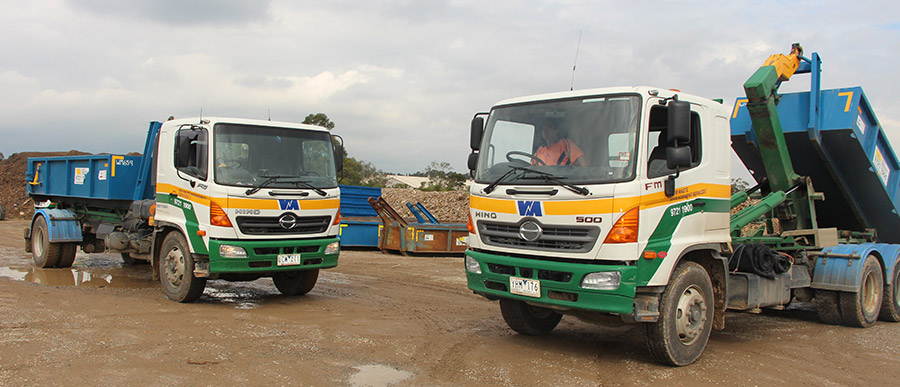 WM Waste Management Services is an Australian-owned business operating from Boronia, in Victoria's South Eastern Suburbs. Established in 1985, WM has provided an invaluable recycling service to the local community for well over three decades.
For rubbish skips and bin hire Melbourne, WM is the trusted name.
WM employs approximately 50 people to be actively involved with the drop-off and collection of rubbish skips, and the recycling, transport and solid waste management of both hard refuse and green organics.
Why choose Our Services?
At WM, we endeavour to provide the most convenient waste removal, rubbish bin hire, and solid waste management achievable. Our commitment to the community extends beyond simply supplying rubbish skips for the removal of waste; we also strive to maintain the beauty of the surrounding Dandenong Ranges by affording local businesses and families the most efficient rubbish skip hire and the means to effectively recycle and reducing landfill.
WM supply rubbish skips in a range of sizes, for a host of various recycling needs. From Skip Bin hire in 2, 3 & 4m3, to walk in bins ranging from 4m3 to 23m3, our company caters to all your recycling needs.
Waste removal services we supply include:
Skip Bin Hire (small to large): our rubbish skips range in size from 2-23 cubic metres.
Cheap Skip Hire: reduced rates for the individual rubbish removal of 100% concrete or 100% clean soil.
Walk In Bin Hire: also known as "Roller Bins", walk in bins are readily available for hire.
Kerbside Hard Rubbish Collection
Kerbside Green Waste Removal Service
Solid Waste Management: from green waste to concrete, soil and steel, WM recycle all forms of hard refuse.
Operation of recycling and Waste Transfer Stations
KTS Recycling and Yarra Ranges Recycling Services: to improve solid waste management, WM manages recycling and rubbish transfer facilities for Knox, Frankston, Coldstream and Wesburn – a one-stop recycling facility and recycled goods shop.
Understanding that our clients are our most valuable asset, we continually strive to improve the waste removal process and rubbish skip hire experience. WM adhere to all industry OH&S standards.
For effective waste removal or the most reliable skip and bin hire Melbourne has to offer, Contact Us. Alternatively, visit the 'How to Order' page, send us an email or call one of our friendly customer service staff on 1300 969 278 (1300 WMWASTE) Remember Our Name, Remember Our Number.