There's nothing hard about having your hard rubbish collected by WM Waste Management Services
At WM Waste, we're proud to be Victoria's number one choice for hard rubbish collection. We provide the best customer service possible, and make it easy for you to dispose of bulky items.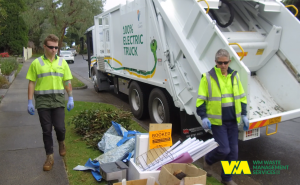 Plus, with our mindful approach to recycling and reusing, we always seek to minimise the amount of waste that ends up in landfill.
We can provide hard waste collection for items like:
Fridges that need to be degassed
Electronic waste (televisions, computers, and so on)
Furniture
Virtually anything that is too large for your regular rubbish collection
We also provide a green waste removal service, and can collect green waste like bundles of sticks or vines after you've cut back your garden.
WM Waste is an Australian owned and operated business in Victoria's south eastern suburbs. Established in 1985, we've been providing hard rubbish disposal services to the local community for well over two decades. To book your hard rubbish collection, head to our hard rubbish booking site.
Items that you can put out for hard rubbish collection
Chairs and tables
Couches and sofas
Mattresses and bed frames
Any other items too large for regular rubbish collection
Some councils have restrictions on what you're allowed to put out for hard rubbish disposal. Contact us to get more in-depth information for your specific location.
E-waste items that can be left out for hard rubbish removal
On 1 July 2019, the Victorian Government banned all e-waste from going to landfill. E-waste is defined as any device or appliance that uses electricity — anything with a plug, a power cord, or a battery.
You can no longer throw e-waste away in your regular rubbish bin, but WM Waste can still pick it up as a part of your hard waste disposal.
Fridges, freezers, and air conditioners
Some electrical items must be degassed before they are disposed of, to ensure that harmful gasses aren't being released into the atmosphere.
After we degas fridges, freezers and air conditioners, we recycle them at our sister company KTS Recycling. You can read more about the process over at their website.
Other e-waste items
Our rubbish trucks have been designed specifically to make it easy for our teams to remove your e-waste. We can remove many e-waste items, like:
washers
dryers
televisions
computers
stereos
Items that you can not put out for hard rubbish removal
We are unable to remove items that are hazardous. This includes:
liquids
chemicals
petrol
paint
asbestos
How to book hard rubbish removal
We have a simple three-step process for taking away your unwanted items.
Step 1: Book your collection
Head to our website www.hardrubbishmelbourne.com.au to book your collection. We will send you a brochure with all the instructions you need.
Step 2: We collect your waste
We use specialised trucks to collect your items. Items that can be compacted are broken down on site. Items which can be reused, or which cannot be crushed, are stored separately and removed.
Step 3: All items are sorted for recycling
We take all waste to KTS Recycling for sorting and recycling, minimising the amount of waste which ends up in landfill.
What happens after hard waste removal?
After we remove your hard waste, we sort through your items and put them to the best possible use.
Reusable items: If we collect any reusable items that are in good condition, like furniture, children's bicycles, books or DVDs, they are taken to our refuse shop and put on sale.
TV and computers: Any electronics are set aside and taken to specialist e-waste recyclers who then remove and reuse the internal components.
Compacted material: This is unloaded onto our sorting deck at our facility. Our team of pickers use an excavator to separate out large metal items, wood, cardboard and non-ferrous metals for recycling.
Sorted material: The remaining waste is shredded in a low-speed shredder. The shredded material is screened and passes through magnets to extract any remaining metal.
Residual waste: Only the small amount of residual waste that remains after our sorting process ends up in landfill. Everything else is recycled and used again.
What are the alternatives to hard rubbish pickup?
As well as hard rubbish pickups, we can also organise for you to hire a skip bin. They come in a variety of different sizes, from 2 metres long to 23 metres long.
Contact us today, and our team will book in a time for your hard waste removal.