Hard waste collection for white goods
If you have white goods that no longer work, have them collected by WM Waste Management. You can book a white goods collection or order a skip bin to have large electrical items removed for safe recycling and disposal.
WM Waste Management provides safe disposal of white goods that you no longer use. Contact our customer service team to book a collection for unwanted white goods.
White goods for hard rubbish
When white goods like a fridge, dishwasher or washing machine fail and can't be repaired, you'll need to get rid of the broken machine to make space for a new one.
Large items like this are too big to be disposed of in household rubbish and your next council hard rubbish collection might be too far away.
To have your unwanted white goods promptly removed, book a white goods waste collection.
How much does it cost to have white goods collected?
The price of white goods rubbish collection depends on your location. Depending on which council you're in, you may be eligible for one free hard rubbish collection each financial year.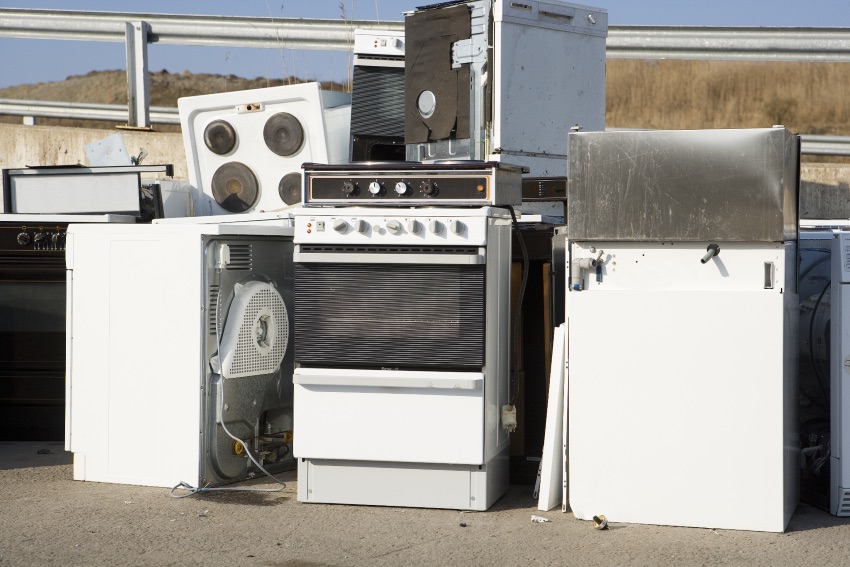 What types of white goods can be collected?
White goods that can be collected include:
Fridges
Washing machines
Clothes dryers
Dishwashers
Freezers
Microwave ovens
Kitchen stoves
Air conditioners
Heaters
Kitchen ovens
If you aren't sure whether your item is suitable for collection, contact WM Waste Management for more information on the white goods that can be collected.
Where do I put my white goods for removal?
When you book your collection, the customer service staff will advise you on the appropriate place to put your items. You should put the white goods out during the week that they will be collected, not any earlier.
When you book a white goods waste collection, a sticker will be sent in the mail for you to stick onto the waste to indicate that your collection has been scheduled.
If your sticker hasn't arrived before the collection day, let the customer service team know. You should still be able to place your items out for collection.
How to book white goods collection
If you're getting rid of old appliances and need to create space in your home or workplace, you can book a white goods rubbish collection by calling (03) 9721 1915 to speak with WM Waste Management's customer service team.
Does WM Waste Management collect white goods in my area?
WM Waste Management collect e-waste and white goods all over Melbourne's south and east. To see if your area is covered, you can find the areas we service on our dedicated page.
Do white goods get collected at the same time as other hard rubbish?
When you book a hard rubbish collection, you may notice several different trucks arrive throughout the day to remove various items.
A compacter trick will collect compactable items for recycling, such as mattresses or scrap metals.
White goods are classified electronic waste or e-waste — this category of waste includes any item with a power cord, plug or battery. A separate truck will collect electrical goods for recycling.
Can white goods go into a skip bin?
Any e-waste items containing gas or liquid, including fridges, freezers and air conditioners, will need to be collected separately. White goods containing gas or liquid can't go into a skip bin.
Some e-waste items can go into a skip bin. If you have a lot of rubbish that needs to be removed, including white goods, and you're considering a skip bin hire, ask our customer service staff which items can go into the skip bin.
What happens with white goods after they are collected?
After collection, white goods go to our dedicated transfer station for processing. Items are separated as much as possible to reduce landfill waste and maximise recycling.
Electrical items such as fridges, freezers and air conditioners are degassed to ensure no harmful gas escapes into the atmosphere. These white goods can then be safely dissembled for recycling, leaving just a small amount of residual waste for hard rubbish.
WM Waste Management aims to recycle and repurpose as much waste as possible, and with your help, we can keep Victoria clean for the future.