Skip hire to remove concrete in Melbourne
Concrete is heavy, unwieldy, and can present a serious hazard when left piled up. Thankfully, our team of waste removal experts at WM Waste Management Services is ready to come to your aid with concrete bin hire. We can deliver the right skip to remove your concrete and remove it in a timely fashion for a set fee.
Need to remove concrete from your property? WM Waste Management can help with concrete removal, as well as the disposal of many other kinds of waste. Get in contact with our team to find a solution for your needs.
Concrete skip bins
Letting discarded, damaged and unwanted concrete pile up can be a hazard to health and safety, as well as an eyesore. The concrete is best removed promptly, and with a specialty skip from WM Waste, a speedy solution can be found.
At WM Waste Management, we have skips that are perfect for removing concrete from many different locations. For example:
Businesses and homes where renovations are taking place
Dams, quarries, and other locations where infrastructural work is being done
Demolition and construction jobs of all shapes and sizes
When faced with concrete problems, seek out concrete solutions. Our team can speak with you about your specific needs — the size of concrete that needs to be removed, any other items that need disposing of, and your particular logistical situation — and advise a plan.
To find out more about our specialty concrete removal capabilities, pay a visit to our dedicated skip bin hire page.
What does concrete bin hire cost in Melbourne?
Numerous factors affect the price of hiring a skip bin for the removal of concrete. For one, there's your location: the closer you are to our facilities, the cheaper delivery will be. Another factor is size: how much concrete is there to be removed? Then, we also take into account whether you're just removing concrete, or if there's anything else to take into account. Read more to see just what is possible with a skip bin from WM Waste Management.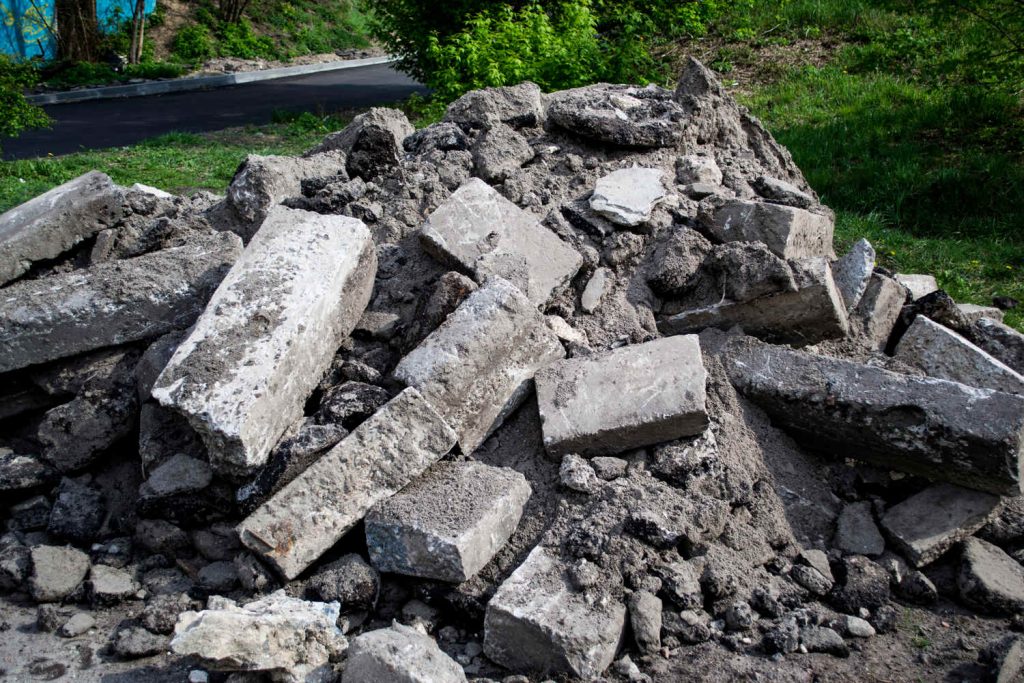 What can go in a concrete skip bin?
If you're exclusively disposing of concrete, we can provide a specialty skip service to have it removed from your property. However, if there are many different items that need to be put in the skip bin, we can help with that as well. Our skip bins can be used for things like:
Wood
Metal
Soil
Bricks
Garden waste
Household waste
Tiles
Plaster
To find out more about the items you can discard in our skip bins, check out the dedicated page we've written on the subject.
What can't go in a concrete skip bin?
The safety of our staff and customers is of the utmost priority to us. That's why there are certain items that cannot be taken in our skip bins. For example, there are restrictions on things like:
Asbestos
Food
Oil
Tires
Gas tanks/bottles
Chemicals
Liquid waste
Paint
Tree stumps
It is possible to remove these items from a property or worksite, but specialists must be enlisted and precautions must be made. Contact our team and we can help you find a solution for these disposal needs.
Booking concrete waste collection
If you're ready to make concrete plans for concrete waste management, there are two easy ways to do it.
When you make a booking, we can lock in suitable delivery and pickup dates that work for you. We'll also talk you through the skip process, and show you how to fill up the bin.
What happens after the cement has been removed?
After we pick up your skip bin (once it has been filled with concrete and anything else you wish to have disposed of), we'll take the majority of the recyclable material to our sister company, KTS Recycling. We minimise our ecological footprint by being as environmentally friendly as possible.