Hire a skip bin to remove unwanted timber
If you have unwanted timber waste, including pallets, crates or offcuts, WM Waste Management can remove it for recycling and reuse. You can order a skip bin to remove unwanted timber, ranging in size from two cubic meters to large walk-in skips up to 23 cubic metres, depending on how much timber you need to be removed.
Dispose of unwanted timber with a skip bin from WM Waste Management. Timber waste in our skip bins is recycled, so contact our team to arrange an environmentally friendly solution.
Timber removal skip bins
A timber skip bin is an affordable way to keep your yard or site clear of unwanted timber.
For businesses that accumulate pallets from shipping and deliveries or stock management, an affordable skip bin service that ensures pallets are reused or recycled can keep a warehouse floor free from hazards.
Timber removal skip bins are suitable for timber waste from:
Landscaping
Home renovation or moving house
Agricultural businesses
Orchards
Vineyards
Winemakers
Warehousing and stock management
Agricultural businesses, orchards, vineyards and winemakers may have unwanted treated timber from stakes that aren't suitable for composting or burning. Whatever your timber waste, WM Waste Management can provide an environmentally friendly and cost-effective timber waste removal.
How much does timber skip bin hire cost?
Skip bin hire costs will depend on the size of the bin you require, the location, and the type of waste that you need to dispose of.
You'll have two or three days to fill the skip, and you can request longer bin hire if this isn't enough time.
A timber removal skip bin can be placed on a driveway or property for convenient access. If there isn't space on the property for the skip bin, you can apply for a local council permit to place the skip bin on the nature strip or road.
If you have any questions about the cost of a skip bin or where the best place to put it will be, the staff at WM Waste Management provide advice on the regulations in your area and the best skip for your waste.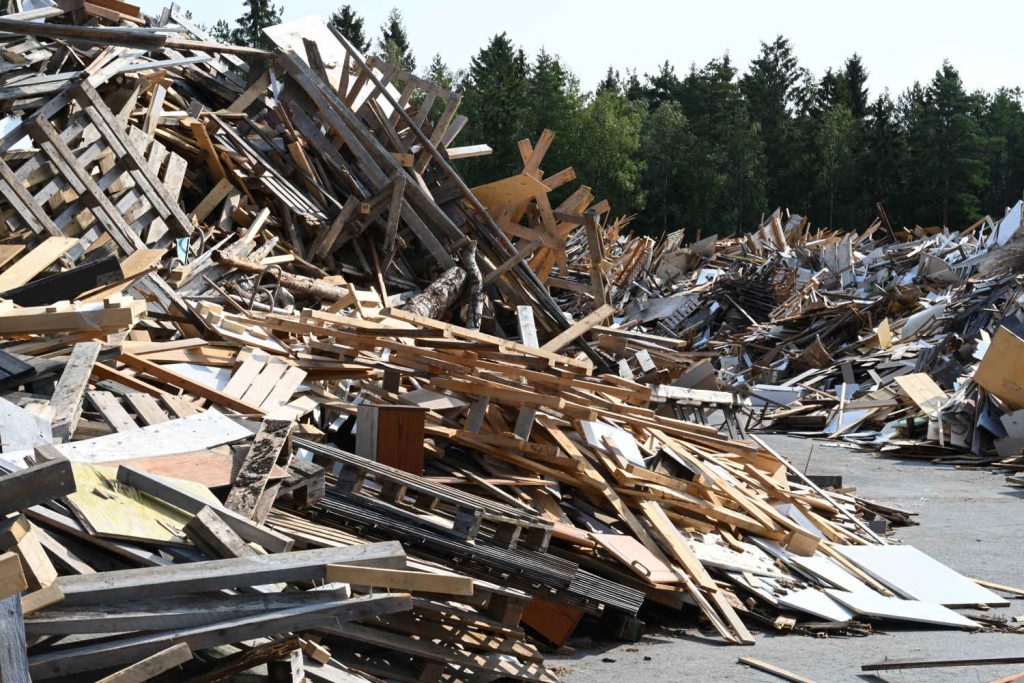 What types of timber can go into a skip bin?
The types of timber that can go into a skip bin include:
Untreated timbers
Treated timber, including painted, varnished or chemically treated timber
Chipped or shredded timber such as particleboard or chipboard
Pallets
Unwanted or broken furniture.
Treated timber needs to be disposed of safely, and can't be burned or composted. WM Waste Management can remove treated and untreated timber cluttering up your property or workplace.
What can't go in a timber skip bin?
Tree stumps can't go into a skip bin, as they can contain insects and decaying matter.
If you need to remove green waste from pruning or landscaping, a green waste collection might be a better option.
Our friendly staff can ensure that you get the correct waste removal service for the timberland any other rubbish you need to have removed.
Hazardous materials such as asbestos products from roofing, ceiling tiles and sidings cannot go into a skip bin. This waste will need to be safely disposed of according to local government regulations.
Find more information about what can go into a skip bin on this information page.
Booking a timber skip bin hire
There are two ways to book a timber skip bin to declutter your property from timber waste:
Book a skip bin hire online for an instant quote, using the online booking tool.
Contact the knowledgeable staff at WM Waste Management to discuss your needs and find out specific information about waste removal.
We can provide a one-off skip bin hire, or ongoing skip bin services, to ensure your timber waste is safely removed and either reused or recycled.
What happens to timber waste after removal?
Untreated timber — without paint, chemicals or varnish — can be chipped and turned into mulch, or compressed into wood pallets and used as Processed Engineered Fuel (PEF).
Our sister business, KTS Recycling, has a program that allows waste, including timber waste, to be converted to a fuel substitute that can be used in the place of coal and gas in high-combustion facilities.
Treated timber will be reused to build furniture, create art and custom items. Some timber can be reused in landscaping and gardening. Any furniture that is in usable condition will be sold at "Treasure Chest", our recycled goods shop.
At WM Waste Management we always ensure that as much timber waste as possible is recycled and reused.