Skips to remove stones and rocks in Melbourne
Stones skip hire can remove large quantities of stones and rocks from worksites and homes. WM Waste provides skip bins in a range of sizes to help you remove your stones and rocks quickly and within budget. We'll dispose of your excess stones and rocks in an environmentally-friendly way, recycling what we can.
WM Waste Management offers a superior stone and rock removal service all over Melbourne and Victoria. Get in touch with our friendly customer service team for a solution to collect of your excess material quickly.
Stone skip bins
When not in use, stones have a habit of piling up quickly. Errant piles of stones can pose a significant risk to workers, pets, children — anyone really. Falling rocks and stones can injure and maim very easily. They also prevent additional dangers to cars, structures, and other expensive pieces of property.
Stones skip bins from WM Waste Management are ideal for many applications, including:
Building sites, housing developments, and renovations
Offices, homes, and other landscaping sites
Quarries, dams, and similar infrastructural locations
If you deal with stones, or have a surplus of it around your job site, we can give you a hand. The stones skip bin you need to hire will depend largely on how much material you need to dispose of. If you would like to know more about the sizes and capacities of our stones skip bins, get in touch with WM Waste Management's friendly customer service team.
To learn more about this service, or to book a skip bin of your own, visit our dedicated skip bin hire page.
What does stone bin hire cost in Melbourne?
We base costs on the size of the stones skip bin you wish to hire. We deliver skip bins around Melbourne, so we also determine delivery costs based on how far you are in relation to our business. Our stone removal bins come in an array of sizes and capacities. We also have specialised bins for 100% concrete, bricks, dirt, or green waste. To learn more about what can and cannot be thrown away, please read on.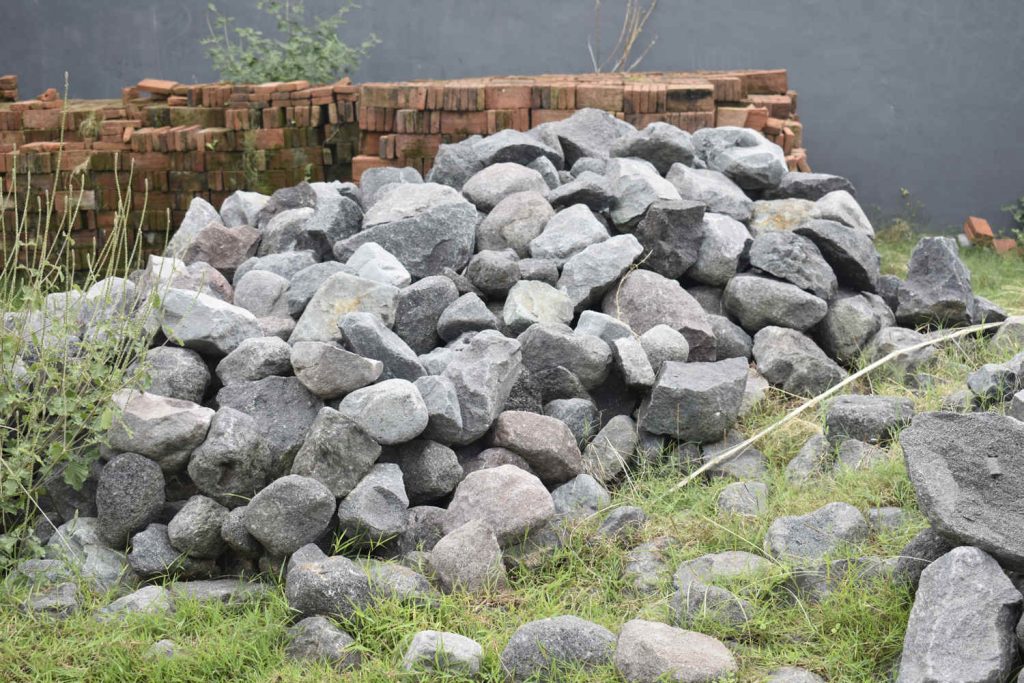 What can go in a stones bin?
If it's made of stone or rock, and does not pose a risk to yourself and our staff, we can dispose of it. Here are some examples of what can go in our stone skip bins:
Stone and rocks left over from landscaping
Boulders from excavation
Stone benches and tiling
Broken down rocks from the garden
Gravel for paths and garden beds
Rubble from construction sites
To learn more about what can and cannot go in your new stone skip bin, visit our dedicated page.
What can't go in stone skip bin?
Safety is paramount to us at WM Waste Management. For this reason, there are some items that cannot, under any circumstances, be thrown into your stone skip bin.
In order to keep yourself, your family, your staff, and our employees safe, we have restrictions on the following stone items:
Hot rocks and ash
Asbestos
Other dangerous rocks and minerals
Organic material like green waste
Sand and soil
Other mixed garbage
If you wish to dispose of stones or rocks that potentially fall into these restricted categories, contact WM Waste Management Services before you book your stones skip. Our friendly customer service team are the best to advise you of what can and cannot go in your skip bin.
Booking stones skip bin hire
Ready to get rid of some stones? You can book your stones skip bin in one of two ways:
Online. Get an instant bin quote using our easy online booking tool.
Phone. For bookings and specific information about our bins and how they work, contact us.
Confirm your delivery date and pickup date in our booking system, and you can pay right away. The rest is up to you! We will deliver your bin and you can fill it up as you please, making sure that you don't overfill it.
What happens after we remove your stones and rocks?
We will pick up your stones and rocks on the date you have requested. We then send the majority of the material to one of the four stations run by our sister company, KTS Recycling. We will sort, recycle, and reuse the stones and rocks for continued use, ensuring that the process remains as environmentally friendly as possible.