Glass waste removal in Melbourne
Glass waste left lying around can shatter and create a safety risk. Hiring a glass waste skip bin can ensure glass from discarded packaging or household items is safely contained and removed for recycling.
WM Waste Management offer skip bins for glass waste from construction, business or domestic use. Find out how easy it is to hire a skip bin with help from our friendly staff.
Glass waste skip bins
Once bottles and jars are empty of their original contents, you need to discard the used glass safely. After an event or at a hospitality venue, the used glass may not fit into the regular recycling bin. Rather than overflowing the recycling bin, you can hire a light waste skip bin to remove larger volumes of glass waste.
Unbroken glass items can be safely reused and recycled. Putting discarded glass items into a light waste skip ensures it is safely contained for sorting for recycling and reuse.
During renovations, cabinets, mirrors, or doors containing glass may need discarding. A building waste collection can include glass from furniture and large appliances.
How much does a glass bin cost to hire?
Skip bin hire costs depend on the volume of waste and the location of the waste pick-up. WM Waste Management has a range of bins of different sizes, according to your needs.
Light material skip bins range from as small as two meters square, or approximately three trailer loads, to 23 meters square. These bins are suitable for most glass and household waste. You can get a quote online to find out how much it will cost to hire a skip bin at your location.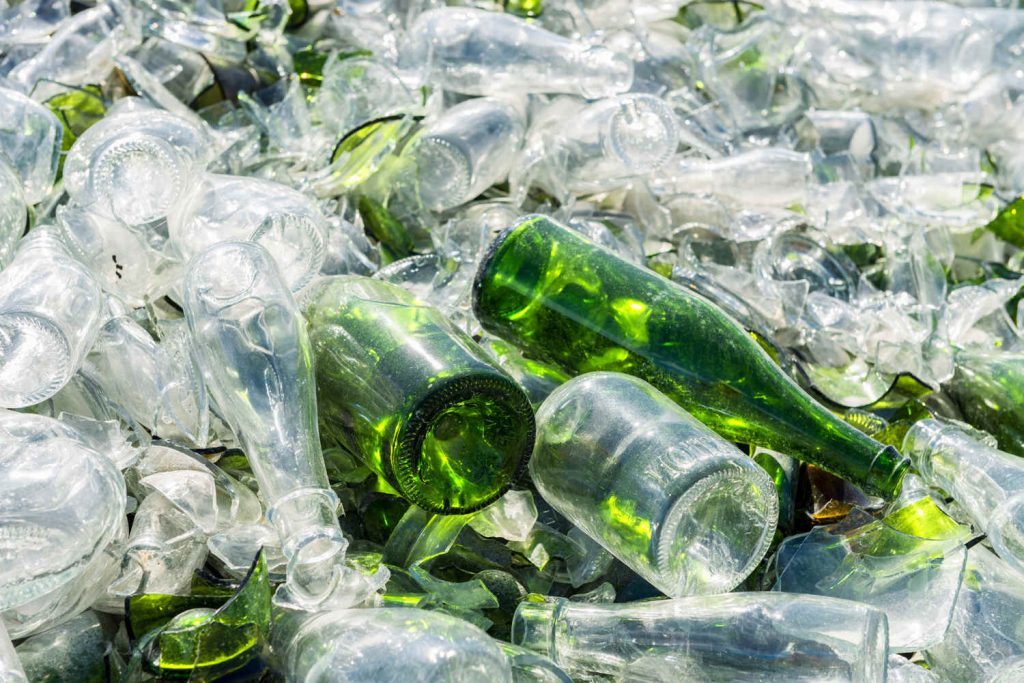 What can go into a skip bin?
There are different skip bins for different purposes. Light and mixed waste skip bins can take glass items.
Types of materials you can put into a light waste skip bin include:
Glass and ceramics
Household items
Old appliances with glass materials
Wood, metal and aluminium
Cabinets, mirrors or kitchen utensils
Green waste
Some e-waste items
Many e-waste items contain glass — "e-waste" is any item with a battery, a plug or a power cord. It includes large and small appliances, watches, phones, computers and consoles, medical devices, fluorescent lamps and other lighting equipment, and even musical instruments.
You can't put any e-waste items in the regular rubbish bins in Victoria, due to the fire risk and potential harm to public health and the environment.
Some e-waste items containing glass can go into our skip bins. If you have e-waste to dispose of, check with our staff about whether they can go into a skip bin, or where you can take the items for recycling.
It's important not to overfill a skip bin — you can fill it up to the sides. Before you book a bin, talk to our staff to identify the size and type of skip bin that you need to remove all of your waste.
What can't go into a light waste skip bin?
When disposing of glass, any bottles or food containers need to be empty. We can't accept liquid waste, food waste, chemicals, oil or paint.
Bricks, concrete and soil cannot go into a light waste skip. You'll need a heavy waste skip bin for this type of refuse.
You can learn more about what can go in your bin, and if you need to dispose of any materials that aren't included, ask our team for recommendations on disposing of restricted materials.
Is there an alternative to a skip bin?
Depending on the items that you need to dispose of, you can book a hard rubbish collection. Local council hard rubbish collection may be infrequent, so if you need glass items removed promptly, arrange a hard rubbish collection with the team at WM Waste Management.
What happens to glass waste?
Reusable glass and ceramic items such as vases, pottery and homewares, will be sorted and resold at "Treasure Chest", our recycled goods shop.
The majority of the remaining glass will be taken to the KTS Recycling facility for processing. E-waste items are disassembled, shredded and processed before being resold to suppliers to be used in manufacturing new products.
If you're in Melbourne's south, south-east, or the Yarra Valley, WM Waste Management can help with local glass waste collection in a timely and efficient manner.