Rubbish Removal Sandringham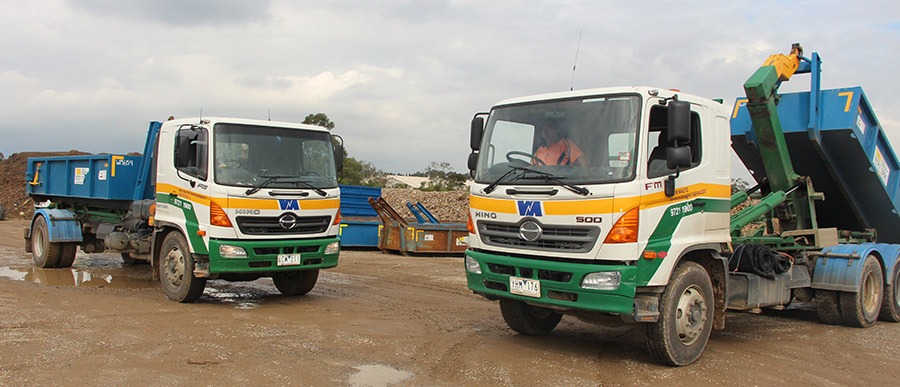 Wide range of skip bins for hire
Sandringham skip bins for homes & business
As part of the Bayside City Council, Sandringham residents are entitled to two free hard rubbish collections each year. However, there are strict guidelines on the volume and type of waste you dispose of. Additionally, local businesses are not covered by this service.
WM Waste is here to help. We offer convenient, cost-effective skip bin hire and rubbish removal services for most types of waste disposal or recycling. Our family-owned business has serviced Bayside since 1985. We know its beautiful streets well and provide a wide range of skip bins for hire.
Our friendly, reliable team enable you to get rid of everything from household furniture and appliances to green waste, building materials and large-scale commercial rubbish. We even provide same-day delivery of skip bins.
Contact us today for more information or a free quote to dispose of your waste without fuss.
We organise your council skip bin permit
The Bayside City Council issues skip bin hire permits to waste removal companies, such as ourselves. Our knowledgeable team have worked with the council for many years and will ensure you have all the documentation you need before we deliver the most suitable skip bin hire.Simply let us know what you need.
Then we will efficiently organise a permit on your behalf. Then, within a few business days, or even as quickly as the same day, we will deliver your skip hire so you can get it filled and disposed of in no time.
Your responsibilities during your skip bin hire
When WM Waste trucks deliver skip bins to Bayside properties, our experienced drivers appropriately position your skip bin hire per the VicRoads Code of Practice. You must, however, adhere to specific guidelines throughout your skip bin hire to remain compliant with the Council. Including ensuring your bin hire remains in place and does not disrupt traffic or pedestrian flow, not overfilling your skip hire and ensuring that all rubbish inside it is secure.
If your skip bin hire is on council-owned lands, such as a nature strip or roadside, you will also need to ensure flashing lights are working between sunset and sunrise. Our friendly team will set everything up for you and are here to help if you have any questions throughout your hire.
Why choose WM Waste Management Services?
WM Waste is renowned for its excellent customer service and as a leader in Sandringham's waste disposal and recycling industry. We are dedicated to keeping the beautiful suburb of Sandringham clean and rubbish-free.
Over the decades, our innovative team has developed streamlined waste management processes. As a result, our extensive range of skip bins can handle jobs of all sizes. So whether you're looking to clean out your garage or you're doing home renovations, we have a bin to suit your needs.
Contact our friendly office staff to learn more about our comprehensive services or to book your skip bin today.
Frequently asked questions
What are Sandringham's waste removal requirements?
Four cubic metres of a hard waste collection limit of four cubic metres applies to each of the two free annual collections. There are also strict guidelines on what you can and cannot include. For example, building materials, concrete, wooden pallets and polystyrene, and neither are branches or timber exceeding 2m in length.
WM Waste provides a complete, cost-effective service to meet your specific needs, no matter the scale. Our rubbish removal experts understand that you need efficient solutions when clearing your house, backyard or building site. We enable you to easily dispose of all general waste, furniture, soil, green debris, and much more!
What type of rubbish can I get rid of in my Sandringham skip bin for hire?
Our rubbish removal services in Sandringham enable you to dispose of waste quickly and without hassle. We have skip bins available for hire to remove all types of residential and commercial waste, including:
Soil and sand
Green waste and grass clippings
Construction waste such as concrete, scrap metal and rubble
Electronics
Hard waste
Hazardous waste types that we do not collect:
Chemicals or other liquid waste
Paint
Oil
Asbestos
Tree stumps
Tyres
Gas bottles
If you have any queries about your rubbish removal in Sandringham, please contact our friendly team for advice.
How do I choose the right size skip bin for waste collection in Sandringham?
We have the most extensive range of skip bin sizes in Sandringham, so you can easily remove all volumes of waste. Our skip bins start at mini skips (one cubic metre) and extend to large walk-in bins (23 cubic metres).
Our knowledgeable professionals appreciate that it may be challenging to decide on the correct skip bin size for your needs. However, we're on hand to offer advice and ensure your Sandringham rubbish removal is quick and stress-free.
Contact us today for an obligation-free quote. Simply provide your address and the type of rubbish removal required, and we'll drop a skip bin off at your property as soon as possible.
What are the different categories of waste you collect?
At WM Waste, we divide rubbish into four main categories. These are detailed below:
Light and mixed – green waste, wood, plaster, and household items
Heavy – soil, tiles, bricks, concrete, air conditioners etc
Concrete – 100% concrete
Soil – 100% clean soil
Please note that we offer cheaper prices for skip bins containing 100% soil etc. For more information, go to our website's hard rubbish collection and recycling section.