Rubbish Removal Lyndhurst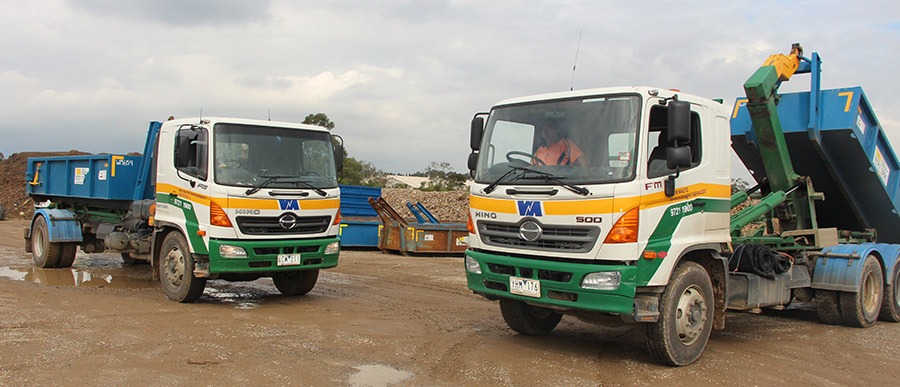 Comprehensive rubbish removal services at a competitive price
Lyndhurst skip bins for homes & business
If you live in Lyndhurst and need your rubbish removed, you are eligible for two free annual hard rubbish collections from Casey City Council. However, with tight restrictions on the amount and type of waste they pick up, you may need a different job than this service.
WM Waste offers comprehensive, affordable waste disposal, recycling and skip bin hire at your convenience. Renowned for our outstanding customer service and extensive range of skip bin sizes, no job is too big or small for our rubbish removal experts.
Our experienced, professional team do all the heavy lifting for you to make rubbish removal stress-free and easy in Lyndhurst. So if you're clearing your garage, have commercial waste to remove, are landscaping and need to remove green waste, we're here to help.
For more information about our skip bin hire or rubbish removal advice, Lynhurst, contact our friendly professionals today.
We organise your permit for skip hire in Lyndhurst
When hiring skip bins in Lyndhurst, you must obtain a permit from Casey City Council, whether you intend to place your skip hire on council-owned lands such as a nature strip or road. Over the years, our knowledgeable team have developed excellent working relationships with all councils. We'll liaise with them to organise your permit on your behalf, so you don't have to worry.
We deliver skip bins as promptly as the same day. Contact us today for more about our comprehensive skip bin hire and rubbish removal service.
Responsibilities during your skip bin hire, Lyndhurst
When you hire skip bins, there are specific guidelines you need to follow as per the VicRoads codes of practice and the Casey City Council. These include ensuring that your skip bin hire does not move from its original location, that it doesn't disrupt the flow of traffic – pedestrians or vehicles, and that all rubbish remains secure inside the bin. Skip bins shouldn't be left in an overloaded state, either.
WM Waste's highly experienced drivers can go through all key rules when they deliver your skip bin hire, Lyndhurst. If you have any questions during your bin hire, our friendly team will be happy to help.
Why choose WM Waste Management Services?
Since 1985, our family-owned business has provided leading rubbish removal and skip bin hire services to thousands of happy customers. We pride ourselves on offering outstanding service at every stage.
Over the years, we've developed innovative solutions to increase recycling and reduce the amount of waste going to landfills. Our longstanding partnership with Knox Transfer Station and many pioneering initiatives, such as ?being the first hard waste company to collect mattresses for recycling separately, are evidence of this.
Hire skip bins, Lyndhurst, at the best price. Contact us today.
Frequently asked questions
What are Lyndhurst's rubbish removal requirements?
As a Lyndhurst resident, you have a limit of three cubic metres for each of the two free annual collections with strict limitations on what they will accept. Additionally, the council does not offer this service to commercial business owners or companies.
WM Waste provides reliable, convenient rubbish removal and skip hire at the best price. Our extensive range of skip bins can handle all scales of waste. Contact us today to order skip bins. With our outstanding service, we deliver skip bins six days per week so that you can enjoy a rubbish-free Lyndhurst property sooner.
What type of rubbish can I get rid of in my Lyndhurst skip bin for hire?
At WM Waste, we efficiently deal with most residential and commercial waste from your property in Lyndhurst, VIC. The rubbish that we accept in our skip bins includes:
Dirt, soil and sand
Household rubbish, such as cardboard boxes, old toys and furniture
Gardening waste and lawn clippings
Construction waste such as concrete, bricks, tiles, scrap metal and rubble
Electronics
Hard waste
There are some hazardous waste types that we do not accept. These include:
Chemicals or other liquid waste
Paint
Oil
Asbestos
Tree stumps
Tyres
Gas bottles
Contact WM Waste today for a free quote on skip bin hire.
How do I choose the right size skip bin for waste collection in Lyndhurst, VIC?
We have the most extensive range of skip bins to meet all rubbish removal needs. We start at one cubic metre with our mini skips and extend to large walk-in bins at 23 cubic metres.
Our knowledgeable team knows that deciding on the best skip bin for you might be challenging. That's why we're here to offer advice on skip bins and to ensure every stage of your hard rubbish removal is easy and efficient.
So contact us for an obligation-free quote, and we'll get the correct skip bin to suit your waste disposal needs as soon as the same day.
What are the different categories of waste you collect?
At WM Waste, we organise rubbish into four main categories. These are outlined below:
Light and mixed – green waste, wood, plaster, cardboard, and household items
Heavy – soil, tiles, bricks, concrete and rubble
Concrete – 100% concrete
Soil – 100% clean soil
For more information, go to our hard rubbish collection and recycling section.