Rubbish Removal Lynbrook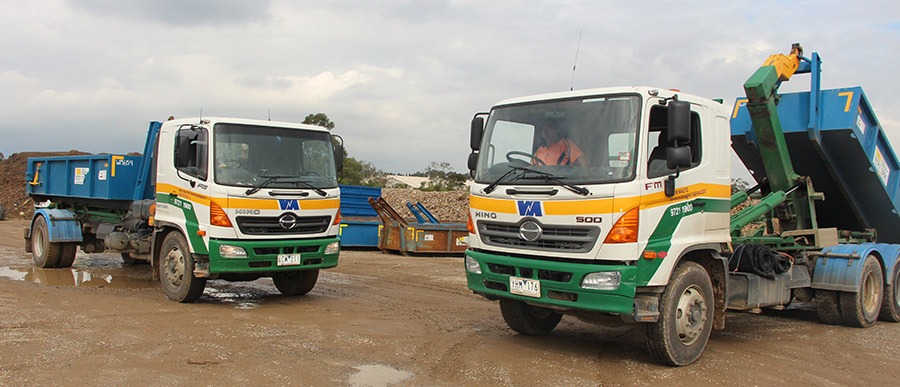 Leading rubbish removals and skip bin hire, Lynbrook
Lynbrook skip bins for homes & business
Lynbrook residents are entitled to two free hard rubbish collections with the City of Casey each year. This service has restrictions on what they will collect, and each rubbish removal is limited to three cubic metres. Additionally, local businesses are not included as part of this service.
At WM Waste, we understand that clearing out your garage, house, or building materials from a construction site may require more than the council service to handle all your rubbish. That's why we provide convenient, comprehensive rubbish removal, recycling and skip bin hire for all scales of waste.
Our reliable professionals can deliver the appropriate skip bins to your property as early as the same day so you can get rid of your rubbish faster. Request a free quote or speak with our friendly staff today.
Get a council permit for your Lynbrook skip bin hire
Before we deliver your skip bin hire, you must first obtain a council permit if you plan to place it on council-owned land. As part of our excellent customer service, we can arrange the permit for you by liaising with the council on your behalf.
With our team's knowledge and experience, you needn't worry. We have an excellent working relationship with the council. We will get your forms filled in and submitted promptly so that in no time, we can deliver your skip hire and clear your space of rubbish.
Your skip bin hire responsibilities
When hiring skip bins, there are specific council and VicRoads guidelines that you need to follow. For example, if your skip hire is placed on council-owned lands such as a nature strip, road or footpath, our reliable drivers will position it correctly so it does not cause obstruction. However, your responsibility will be to ensure that it stays in this position throughout your hire.
While loading your skip bin, don't pile it too high, and allow items to dislodge easily. Our outstanding service can deliver skip bins to your property six days a week so you can enjoy a rubbish-free life sooner rather than later.
Why choose WM Waste Management Services?
WM Waste is renowned for its excellent service and industry expertise. Our family-owned and operated business has serviced the Eastern suburbs since 1985. We offer a wide range of bin sizes to suit all volumes of rubbish. In addition, our skip bin hire is available six days a week for your convenience.
We are committed to delivering innovative, sustainable solutions for our customers and the environment. Consequently, over the decades, we've pioneered numerous methods to increase recycling efficiency and reduce waste going into landfill.
Frequently asked questions
What are Lynbrook's rubbish removal requirements?
As a City of Casey Council member, Lynbrook residents have a hard waste collection limit of three cubic metres for each of the two free annual collections. However, these collections have limitations on what can and cannot be collected. For example, construction materials, including concrete, rubble and bricks, are not accepted.
That's why WM Waste's reliable rubbish removals are here for you. We provide cost-effective skip bins for hire of all sizes to meet all your waste disposal needs. Request your same-day skip bin delivery, so your house can be free of unwanted furniture, cardboard boxes, tree branches and garden mulch.
Contact us today to order skip bins or to speak with one of our friendly, highly experienced team.
What type of rubbish can I get rid of in my Lynbrook skip bin for hire?
Dispose of waste quickly and stress-free with our comprehensive Lynbrook rubbish removal services. We can deal with most types of residential and commercial waste, including:
Dirt, soil and sand
Household rubbish, such as cardboard boxes, old toys and furniture
Green waste and grass clippings
Construction waste such as concrete, scrap metal and rubble
Electronics
Hard waste
There are some hazardous wastes that we do not collect. These include:
Chemicals or other liquid waste
Paint
Oil
Asbestos
Tree stumps
Tyres
Gas bottles
Contact WM Waste today for a quote, rubbish removal, or skip bin hire.
How do I choose the right size skip bin for rubbish removal in Lynbrook?
Our skip bin sizes range from mini skips at one cubic metre and extend to large walk-in bins at 23 cubic metres in capacity. We understand that you might wonder which skip bin best suits your needs. That's why we're here to offer advice and ensure all aspects of your hard rubbish collection are stress-free and easy.
Contact WM Waste today to get an obligation-free quote. Provide your address and the type of rubbish removal you require, and we'll deliver the perfect skip bin to suit your waste disposal job in no time.
What are the different categories of waste you collect?
We divide rubbish types into four main categories, which are detailed below:
Light and mixed – green waste, wood, plaster and household items
Heavy – soil, tiles, bricks, concrete, air conditioners etc
Concrete – 100% concrete
Soil – 100% clean soil
We provide discounted prices on skip bins containing 100% soil etc. For more information, click on our hard rubbish collection and recycling section.