Skip Bins Heatherton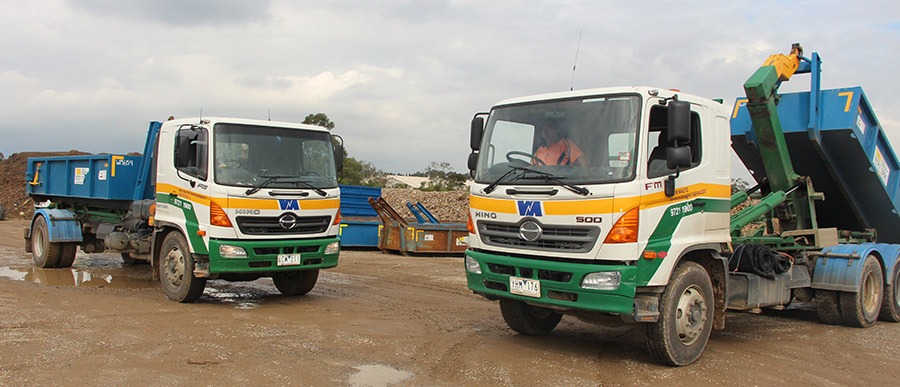 Extensive range of skip bin sizes for hire in Heatherton
Heatherton skip bins for homes & business
For decades, WM Waste has been dedicated to ensuring the streets of South Eastern suburbs, including Heatherton, are kept sparkling clean and rubbish-free. With its beautiful parklands and family-focused community, Heatherton is one of Bayside's best-kept secrets.
As part of Kingston City Council, its residents receive one free hard rubbish collection each September or October. However, given the strict limitations on the amount and type of waste disposal the council accepts, we understand that this service may not meet your needs. That's why we're here to help.
WM Waste provides a wide range of skip bins for hire in Heatherton at your convenience for all waste types. If you're spring cleaning or clearing up after a construction project, we'll deliver your skip bin fast so you can promptly dispose of your waste. We offer long-term hire options and guarantee to recycle what we can as we're committed to reducing landfill.
Get a permit for your skip bin hire, Heatherton
If your skip bin hire, Heatherton, is to be positioned on a road, nature strip, laneway or any other council-owned land, you'll need a permit first. Kingston City Council only distributes permits to skip-hire companies, such as ourselves, so we'll organise it for you.
No matter the size bin, we can ensure your trash gets disposed of quickly with our streamlined processes and delivery. We've been servicing the South Eastern suburbs for nearly four decades and are renowned for providing reliable, efficient skip bin hire and waste management solutions.
Contact our friendly professionals to order your skip bin hire, Heatherton, for your next project or spring cleaning job today.
Your responsibilities
Any skip bin hires placed on a road, nature strip, or other council-owned lands must adhere to the VicRoads Code of Practice. Your skip bin hire shouldn't obstruct pedestrian or traffic flow and has appropriate reflective tape and lights to be easily seen at all hours.
When our experienced drivers deliver your bin hire, they'll position it appropriately and follow the relevant guidelines. As the hirer, you are responsible for ensuring skip bins don't move, are not overloaded, and all items inside remain secure throughout the bin hire process.
Call us or complete our easy online form to order your skip bin today.
Why choose WM Waste Management Services?
Since 1985, WM Waste has been renowned across Melbourne as a waste management and recycling industry leader. Over the decades, we have developed innovative, sustainable ways of disposing rubbish that is better for the environment.
We provide comprehensive, affordable rubbish and recycling solutions, from our skip hire and mattress recycling service to curbside green waste removal and solid waste management services. Wherever you are in Melbourne, you can rely on our team to quickly deliver skip bins and transport your waste to our Knox Transfer Waste Station, where items can be reused or disposed of responsibly.
Frequently asked questions
What are the waste removal guidelines in Heatherton?
Kingston City Council has strict regulations on how much and what waste types they will collect. For example, no items are to be over 1.5m in length or 55kg. Additionally, they do not pick up green waste, bricks or concrete, tree prunings or any bagged household rubbish.
With WM Waste's skip bin hire, we make it easy for you to deal with large amounts of rubbish at your convenience. Our outstanding service ensures prompt delivery of your skip hire, and when it's filled, we'll get rid of it promptly, so you don't have to worry.
What type of rubbish can I get rid of in my Heatherton skip bin for hire?
We offer a wide range of skip bins and waste management services to simplify any clean-up job. When you hire one of our skip bins for your Heatherton home or business, you can fill it with any of the following:
Soil and dirt
Green waste and grass clippings
Construction waste, such as concrete and rubble
Electronics
Hard waste
Hazardous materials we cannot accept include
Chemicals or other liquid waste
Paint and oil
Asbestos
Tree stumps
Tyres
Gas bottles
Contact our friendly professionals to learn more about our skip bin hire, Heatherton or for advice on how to get rid of hazardous materials.
How do I choose the right size skip bin for waste collection in Heatherton?
We provide the most extensive range of skip bins for hire in Melbourne. Whether you're looking for a large walk-in bin at 23 cubic metres or a smaller one at three cubic metres, we have a skip bin for you. Order your skip bin today.
What are the different categories of waste you collect?
Our skip bins for hire divide waste into several categories. These include:
Light and mixed – has anything from green waste, wood, plaster and tin to household items
Heavy – soil, tiles, bricks, and concrete
Concrete rubble – tiles, bricks, and concrete
Concrete – 100% concrete
Soil – 100% clean soil
Green waste – 100% green waste