Skip Bin Hire Hampton Park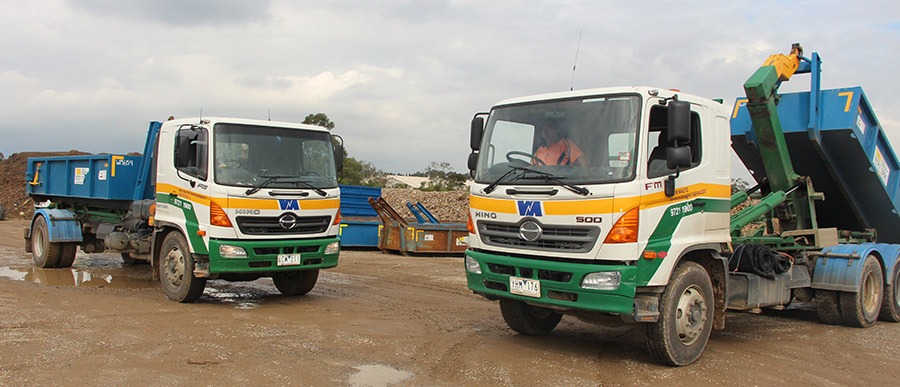 Comprehensive Hard Rubbish Removal Services, Hampton Park
Hampton Park skip bins for homes & business
If you live in Hampton Park, as a resident of the City of Casey, you are eligible for two hard rubbish collections per calendar year. However, this is limited to three cubic metres, and there are strict limitations on what they can and can't collect. For example, building rubbish such as concrete, soil and dirt is not permitted.
Getting rid of all your excess household rubbish or commercial waste can be challenging with many restrictions. That's why WM Waste Management Services is here to help. We have an extensive range of skip bins for hire in Hampton Park.
Our comprehensive, convenient and reliable services enable you to eliminate your hard rubbish and green waste without hassle when it suits you. Request a free quote, or for more information, speak with our friendly professional team today.
We organise your council permit
Permits are required to place skip bins on council-owned lands, such as nature strips, roadsides or footpaths. However, if your skip bin hire is delivered directly to your house or business, you don't need to obtain a council permit.
With WM Waste, you don't need to worry about navigating council websites and documents because we can organise your permit on your behalf. Our reliable, knowledgeable team are very experienced with the permit process and has excellent working relationships with councils across Melbourne.
Your responsibilities when hiring skip bins
Skip bin hire, Hampton Park requires you to adhere to the City of Casey Council and VicRoads guidelines. Although our professional truck drivers will go through these details when they deliver your skip hire, they will also position it safely following the rules.
Your responsibility will be to keep your skip bin in the correct position throughout your hire. You'll also need to ensure that you don't overfill your bin hire and that any hard rubbish inside is appropriately secured.
If you have any questions, our friendly rubbish removal experts will be happy to help.
Why choose WM Waste Management Services?
Since 1985, WM Waste has provided comprehensive rubbish collection and skip bin hire services throughout Melbourne. As a family-owned business, we are committed to ensuring the streets of Hampton Park remain clean and rubbish-free.
Over the decades, we have developed numerous innovative waste management solutions to reduce waste going into landfills and increase recyclable items' reuse. Our outstanding service does all the heavy lifting for you without the hassle.
So whether you need to dispose of your garden or household waste, old furniture, cardboard boxes, scrap metal, or building waste, you can rest assured we'll sort it.
Frequently asked questions
What are Hampton Park's rubbish disposal requirements?
As part of the City of Casey Council, there is a hard waste collection limit of three cubic metres for your two free annual collections. In addition, they have strict guidelines on what can and cannot be collected. For example, any building material, such as concrete or rubble, is not accepted, and items are restricted by size and weight.
Our rubbish removal experts offer cost-effective recycling and bin hire, no matter the scale of trash you have to remove. Request your skip bin hire, Hampton Park, today. Our same-day rubbish removals and skip bin delivery enable you to quickly clean up your building site or eliminate everything from old furniture, tree branches, and cardboard boxes.
What type of rubbish can I get rid of in my Hampton Park skip bin for hire?
WM Waste's rubbish removal, Hampton Park, makes clean-ups hassle-free. Our wide range of skip bins for hire means you can remove all types of residential and commercial rubbish, such as
Soil and dirt
Green waste, grass clippings and other organic debris
Construction materials such as concrete, scrap metal and rubble
Electronics
Hard waste
Hazardous waste types that we do not collect:
Chemicals or other liquid waste
Paint
Oil
Asbestos
Tree stumps
Tyres
Gas bottles
Please contact our friendly team for advice if you have queries about rubbish removals and skip-hire in Hampton Park.
How do I choose the right size skip bin for waste collection in Hampton Park?
Our extensive skip bin hire range makes removing all volumes of rubbish a breeze. Our smallest mini skips are one cubic metre, while our largest extends to large walk-in containers with a capacity of 23 cubic metres.
Contact our friendly team today for a quote, rubbish removal, or skip bin hire. We just need your address and the type of rubbish removal you require. Then we can deliver a skip bin to your house or business as soon as possible.
What are the different categories of waste you collect?
At WM Waste, we divide rubbish into four main categories. These are detailed below:
Light and mixed – green waste, wood, plaster, cardboard boxes, furniture and household items
Heavy – soil, tiles, bricks, concrete, building materials, air conditioners etc
Concrete – 100% concrete
Soil – 100% clean soil
Please note that we offer lower prices for skip bins containing 100% soil etc. For more information about our rubbish removal, recycling and skip bin hire, Hampton Park, go to our website's hard rubbish collection and recycling section.