Skip Bin Hire Endeavour Hills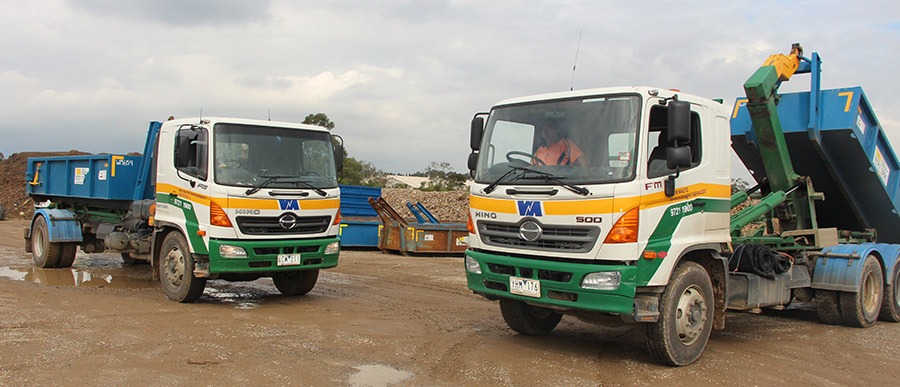 Wide Range of Skip Bin Sizes for all your rubbish removal needs
Endeavour Hills skip bins for homes & business
Endeavour Hills falls within the City of Casey Council's jurisdiction. As a resident, you are entitled to two free hard rubbish collections of three cubic metres annually. However, this service may not meet all your waste disposal requirements and does not cover commercial businesses.
WM Waste offers convenient skip hire in Endeavour Hills for all your rubbish removal needs. Our highly experienced, efficient team can deliver your skip bin hire at short notice so you can dispose of your waste faster.
We offer an extensive range of skip bin sizes to handle any situation easily. From mini skip hire to our large walk-in bins, WM Waste we have the right size bin to suit your needs at the best price. So we've covered whether you want to dispose of green waste, old furniture or commercial rubbish.
Get a quick obligation-free quote, or contact our friendly team today for more information.
Get a permit
You don't need a permit if you place your skip hire on private property. However, you must obtain a skip-hire permit from the council if it is on council-owned land.
With WM Waste's comprehensive services, you don't need to worry about contacting the correct office or filling in forms. We will deal with the council on your behalf and ensure you receive your skip bin permit quickly. Our friendly, knowledgeable team are also always happy to advise you on any queries you may have.
Your Skip Bin Hire Responsibilities in Endeavour Hills
If positioned on the road or council-owned land, such as a nature strip, your skip bin hire in Endeavour Hills needs to adhere to the VicRoads Code of Practice. When WM Waste's highly experienced drivers deliver your skip hire, they'll ensure its correct placement and that it doesn't obstruct traffic or pedestrian flow.
As the hirer, you must ensure skip bins remain in place and not overfill them – all items placed inside need to be kept secure. If you have any questions throughout your skip hire in Endeavour Hills, our experts are on hand to help.
Why choose WM Waste Management Services?
WM Waste is renowned across Australia as a leader in the waste management industry. Since 1985, our family-owned business has provided innovative, cost-effective solutions to rubbish removal and recycling in Endeavour Hills.
Aside from our extensive range of skip bin hire in Endeavour Hills, we offer environmentally friendly ways to dispose of your old furniture, mattresses, green waste and rubbish. Over the decades, we have pioneered various methods to reduce landfill and improve the efficiency of recycling all types of garbage.
Contact our friendly team today for the best price on quick bin hire at Endeavour Hills.
Frequently asked questions
What are Endeavour Hills' waste removal requirements?
The City of Casey Council has strict rules on what they can and can't collect with their hard waste collection service, so please ensure you're up to date with what you can put in our bins. For example, they will collect garden waste, but it must tie into five bundles, and they will take scrap metal no longer than 1.5m. In addition, rubbish collection is restricted to three cubic metres, which may not meet your needs.
WM Waste provides convenient, affordable skip hire in Endeavour Hills, so you can easily dispose of most waste types on a larger scale without the same restrictions.
What type of rubbish can I dispose of in my Endeavour Hills skip bin for hire?
We provide skip bin hire, Endeavour Hills, to enable you to dispose of a wide range of residential and commercial waste types, including:
Soil and sand
Green waste and grass clippings
Construction waste such as concrete, tiles, bricks and rubble
Electronics
Hard waste
Hazardous waste types that we are unable to collect include:
Chemicals or other liquid waste
Paint
Oil
Asbestos
Tree stumps
Tyres
Gas bottles.
If you have any queries about bin hire or rubbish removal in Endeavour Hills, contact our friendly team, who will be happy to help.
How do I choose the right size skip bin for waste collection in Endeavour Hills?
We offer an extensive range of bin hires to remove all scales of waste. For example, skip bins range from mini skips (one cubic metre) and extend to large walk-in containers (23 cubic metres) for a large commercial clean-up job or construction site.
Contact us today for an obligation-free quote. All we need is your address and the type of rubbish removal required. Then with our excellent customer service, we'll promptly deliver a skip bin to your property as soon as possible so you can get rid of your rubbish faster.
What are the different categories of waste you collect?
We divide rubbish into four main categories including:
Light and mixed – green waste, wood, plaster, and household items
Heavy – soil, tiles, bricks, concrete, rubble and other building materials
Concrete – 100% concrete
Soil – 100% clean soil
For more information, visit our website's hard rubbish collection and recycling section.