Skip Bin Hire Edithvale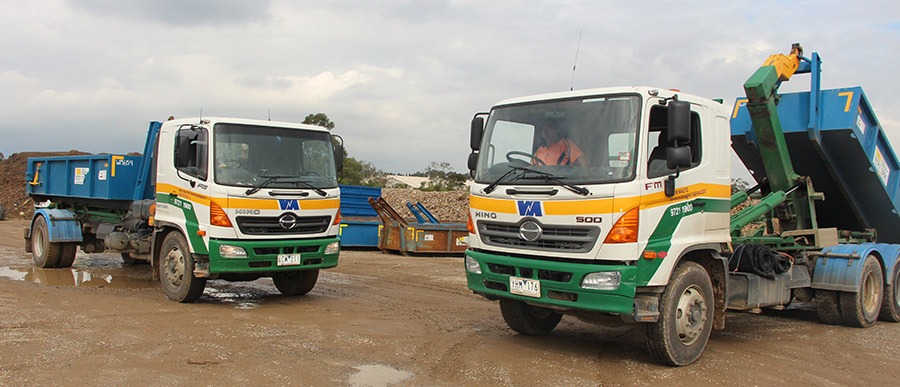 Hassle-Free, Affordable Skip Bin Hire Edithvale
Edithvale skip bins for homes & business
WM Waste is renowned across Melbourne for our reliable, convenient, comprehensive waste management solutions. We have serviced the friendly beachside suburb of Edithvale since 1985 and are committed to keeping its beautiful streets clean and rubbish-free.
Kingston City Council provides one annual hard rubbish collection per year in September or October to Edithvale residents. This collection is limited to two cubic metres of household items, electronic equipment, and metal. If you are a commercial business, you are not included as part of this service.
Our skip bin hire, Edithvale, enables you to efficiently remove rubbish for landfill and recycling from your garage, construction site or any scale of the job. We do our best to provide excellent customer service at every stage, from same-day delivery of skip bins to organising your council permits. We've got you covered.
Get a permit for your skip bin.
You don't need a council permit to place your skip bin hire on your driveway or backyard. However, you must first apply for a permit to position your skip hire on a nature strip, road, laneway or any other council-owned lands.
Our friendly staff will do a fantastic job sorting your permit as part of our outstanding service. We've worked with councils across Melbourne for decades and have developed excellent working relationships with them. Our expertise and streamlined processes ensure we promptly deliver the right-sized skip bin hire to your Edithvale property for all your rubbish removal and recycling needs.
Your responsibilities during skip bin hire, Edithvale
When WM Waste's reliable drivers drop off your skip bin hire, they'll position it correctly according to the VicRoads Code of Practice. It is your responsibility, as the hirer, to ensure that it doesn't move. Your skip bin hire cannot interfere with pedestrian or traffic flow and thus should not be placed in right-of-way or time-restricted parking areas. If your skip hire remains on public land during sunset and sunrise, it needs reflective safety tape and flashing lights.
Our professional team are on hand for support and to answer any questions you may have during your skip bin hire, Edithvale.
Why choose WM Waste Management Services?
WM Waste are passionate about keeping the beautiful beachside community of Edithvale looking pristine. We have provided environmentally friendly, efficient and innovative rubbish removal to homes and businesses across Melbourne for decades. Our professionals are dedicated to ensuring your skip-hire process is straightforward.
We have an extensive range of competitively priced skip bins for hire to suit most waste types. So whether you're looking to get rid of two cubic metres of mixed waste or embark on a renovation project and need to remove concrete and rubble, we have the solution for you.
Frequently asked questions
What rubbish removal regulations do I need to be aware of in Edithvale?
As part of the Kingston City Council, Edithvale residents have one hard rubbish collection each year in September or October. It is limited to two cubic metres, and there are also regulations on the waste types they collect. For example, all items must be less than 1.5m in length and 55kg. Additionally, they will not pick up bricks, tree prunings, or bagged household rubbish.
Our convenient skip-hire service allows you to dispose of all types of rubbish when it suits you. Phone us today to let us know the scale of your waste removal requirements. We can organise the best skip bin hire solution for you at great value for money.
What type of rubbish can I get rid of in my skip bin hire, Edithvale?
You can load your skip bin hire, Edithvale, with all types of rubbish, including:
Soil and dirt
Green waste and grass clippings
Construction waste such as concrete, bricks and rubble
Electronics
Hard waste
Unfortunately, we cannot accept tyres or tree stumps. Additionally, some dangerous waste types we do not dispose of include:
Chemicals or other liquid waste
Paint and oil
Asbestos
Gas bottles
How do I choose the right size skip bin for waste collection in Edithvale?
WM Waste has the most extensive range of skip bins for hire in Melbourne. Our bin sizes extend from mini skips at one cubic metre to our 23 cubic metres 'walk-in' bins. Choosing the most suitable skip bin to meet your rubbish removal needs can be tricky, as it's often difficult to accurately estimate how much waste you have accurately. Speak with our experienced team, and we'll ensure you get the best option.
What are the different categories of waste you collect?
At WM Waste, we divide rubbish into a range of categories which include:
Light and Mixed Waste – This allows you to eliminate household items, plaster, tin, metal, wood and green waste all in one!
Heavy Waste – Such as tiles, concrete, bricks, and soil.
Concrete Rubble – For a mixture of concrete, rubble, tiles and bricks
Dirt Waste – Great if you're landscaping your garden
100% Green Waste – We recycle all of this green waste and turn it into a quality garden mulch
100% Concrete Waste – All concrete gets recycled to produce crushed concrete.