Skip Bin Hire Dingley Village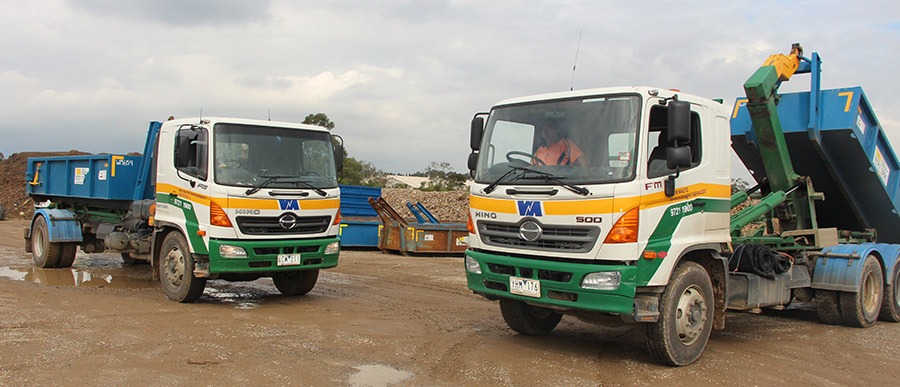 Hassle-Free Skip Bin Hire Services for all Your Rubbish Removal Needs
Dingley Village skip bins for homes & business
WM Waste has provided skip bin hire and waste disposal services to commercial and residential properties in Dingley Village since 1985. Our professional rubbish removal team is committed to keeping its friendly streets clean with our great service.
We understand that the Kingston City Council's resident allocation of one annual hard rubbish collection does not always meet your rubbish removal needs. Especially with their restricted two cubic metres pick-up limit and strict guidelines on what they do and do not collect. Our reliable, comprehensive rubbish removal services are here for you.
So whether you're looking to clear construction material from a building site, require large-scale commercial hard rubbish removal, or clean out your garage, give us a call. Our extensive bin sizes, from mini skip bins to large walk-in bins, are available at affordable prices with same-day delivery-Book online today.
Get a permit
If you plan to position your skip bin hire, Dingley Village or Springvale South, on your driveway or yard, you don't require a permit. However, if you intend to place skip bins on council-owned lands such as a nature strip, road or road reserve, you do.
Our rubbish removal experts will liaise with Kingston City Council on your behalf and ensure your application process is efficient. Then, we'll get the correct skip bin hire to you in no time so you can clear your property of green waste, bricks, old furniture and other landfill or recycling you need to remove.
Responsibilities
You must adhere to several regulations with your skip bin hire, Dingley Village. All fall under the VicRoads Code of Practice jurisdictions and include:
Ensuring your skip bin is placed off the road and does not cause obstruction
Not overfilling your skip bin hire
Securing all waste in your skip bin
Our professional rubbish removal and recycling team will ensure that your skip bin hire has retroreflective tape and flashing lights if appropriate. We can also assist with any enquiry about the council and VicRoads regulations.
For hassle-free skip bin hire, at Dingley Village, at affordable prices, phone our friendly team or book online today.
Why choose WM Waste Management Services?
WM Waste are Melbourne's leading skip bin hire, waste disposal and recycling service. Over the decades, we have developed streamlined processes and innovative solutions to reduce the amount of rubbish going into landfill. Residents and commercial businesses across Melbourne count on our family-owned business for prompt skip bin delivery and affordable bin prices.
We have an extensive skip bin hire range to suit any clean-up job. From mini skips to large walk-in bins, we make disposing of your rubbish easy and hassle-free. Contact us to learn about our skip bin hire, Dingley Village or Springvale South.
Frequently asked questions
Does Dingley Village have any special requirements for rubbish removal?
The council limits the amount and type of rubbish they collect. All items must not exceed 1.5m in length or 55kg. With WM Waste's convenient skip bin hire in Dingley Village, you don't have to worry about the timing, type of rubbish or amount. Our rubbish removal professionals can deliver a suitable size bin for your needs. We'll ensure you efficiently dispose of everything from household rubbish and old furniture to mattresses and dirt hassle-free.
What type of rubbish can I get rid of in my Dingley Village skip bin for hire?
We offer an extensive range of rubbish removal options to meet the varying needs of our residential and commercial customers. We collect the following waste types:
General waste
Soil and dirt
Green waste and grass clippings
Construction materials such as concrete, bricks and scrap metal
Electronics
Old furniture.
Our rubbish removal in Dingley Village doesn't include the following:
Asbestos
Chemicals or other liquid waste
Tyres
Gas bottles
Paint and oil
Tree stumps
Contact us today if you have an enquiry about anything to do with our rubbish removal services or skip bin hire at Dingley Village.
How do I choose the right size skip bin for waste collection in Dingley Village?
Our wide range of skip bin sizes caters for all rubbish disposal needs. The smallest skip bins are two cubic metres, mini skips, and our largest are 'walk-in' skip bins which can handle a 23 cubic metre load of rubbish. Deciding on the best-sized skip bin to suit your needs is difficult. Instead, contact our friendly team, who can advise you on the most suitable option and arrange for a skip bin to be delivered to your site as soon as possible.
What are the different categories of waste you collect?
We divide our waste disposal into various categories. Some, such as 100% green waste or 100% dirt, have reduced fixed price rates. See below:
Light and mixed – green waste, wood, plaster, tin, and household items
Heavy – soil, tiles, bricks, concrete, fridges, freezers and air conditioners
Concrete – 100% concrete
Soil – 100% clean soil