How To Dispose Of Garden Waste Properly
Dec 05, 2017
4 Ways To Get Rid Of Garden Waste Like Trimmings And Branches
Cleaning out your garden can be a massive project. But before you get to enjoy your beautifully hedged and trimmed garden, you've got to get rid of all the grass clippings and loose branches you've piled up. But how?
There are a couple of ways to get rid of garden waste. Some are low effort, others are low cost, and others still may be more environmentally friendly.
We're going to explain four solutions for clearing away your garden waste. But remember, you can always let our green waste removal professionals handle the job for you.
What Counts As Garden Waste?
Garden waste includes all organic waste produced by your garden. It includes leaves and branches that have fallen naturally, grass clippings, hedge trimmings, tree prunings, dirt and soil, and even animal waste if you've got outdoor pets. Basically, all biodegradable waste counts.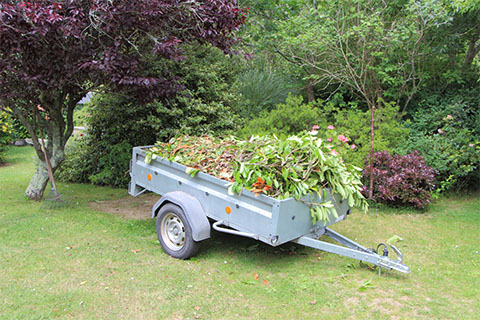 4 Green Waste Disposal Methods
1. Composting: the green solution
Compositing is the most eco-friendly green waste recycling method. Through composting, garden waste — combined with household food waste — is turned into compost and other soil materials, which you can use to feed and nurture your flowers and fruit trees.
If you're interested in developing your green thumb, it's only a matter of time before you start planning to build your own compost bin. But there are some drawbacks:
Building or buying a compost bin requires time, money and garden space. It may also need regular upkeep, so this method is best suited to keen gardeners.
Not everything in your garden waste collection can be composted. Branches, twigs and bark still need to be disposed of in some other fashion.
2. A trip to the tip: the quick solution
Most Melbourne suburbs have a local waste management centre with a tip. For a fee, you can simply dump your garden waste in their pit and leave them to sort it out.
Don't worry; your garden waste isn't going to a landfill to flood the atmosphere with greenhouse gases. At the tip, you'll find that there's an organic waste trough separate from the regular waste tip. All your biodegradable and organic garden waste will be processed and recycled into fresh compost.
Though the tip is the quickest way to dispose of your garden waste, it comes at a price. Check the rates at your local tip to see before you head down. You may also have to hire a trailer, depending on how much garden waste you need to dispose of, or if you've got large objects like stumps and branches.
If you're transporting the waste in your vehicle, we recommend you package it in recyclable green waste bags, which you can get at many supermarkets and hardware stores.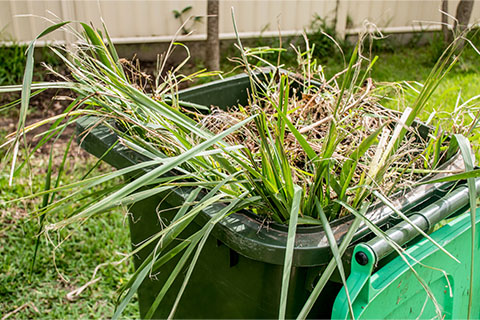 3. Get a second green bin: the costly solution
Every household in Melbourne is given a green bin by their council, as we're sure you know. But, if you find that you're regularly overfilling it, you can order a second one from your local council. But you do have to pay for it.
If you own your home, you'll have to pay your council directly for your new green bin. If you're renting, you'll need to ask your landlord to order the bin for you, and then pay them back. In most councils, having extra bins incurs an annual fee, so this will be an ongoing cost for you. We suggest you only take this path if you're sure you'll produce enough garden waste to warrant it.
4. Hire a green waste skip bin: the easy solution
Hiring a skip bin from us is the most convenient way to remove your garden waste. All you have to do is hire a skip bin or organise for a waste removal company to come and collect it for you.
Our skip bins range in size from 6m³ to 8m³ and are sufficiently large to accommodate waste from large gardens. They offer far more room than your council's green bins, and the one-off cost is far easier on your wallet. You can also count on your garden waste being disposed of in an eco-friendly way.
Hire WM Waste's green waste removal services
The most important thing is to make sure that you're not putting your garden waste in the general rubbish bins. With so many garden waste recycling solutions, why waste all that good stuff?
Contact our experts and tell us how much garden waste you need removed — we'll sort you out with a quick, cost-effective, eco-friendly green waste removal solution.