8 things you need to know about getting rid of grape marc
Jul 09, 2019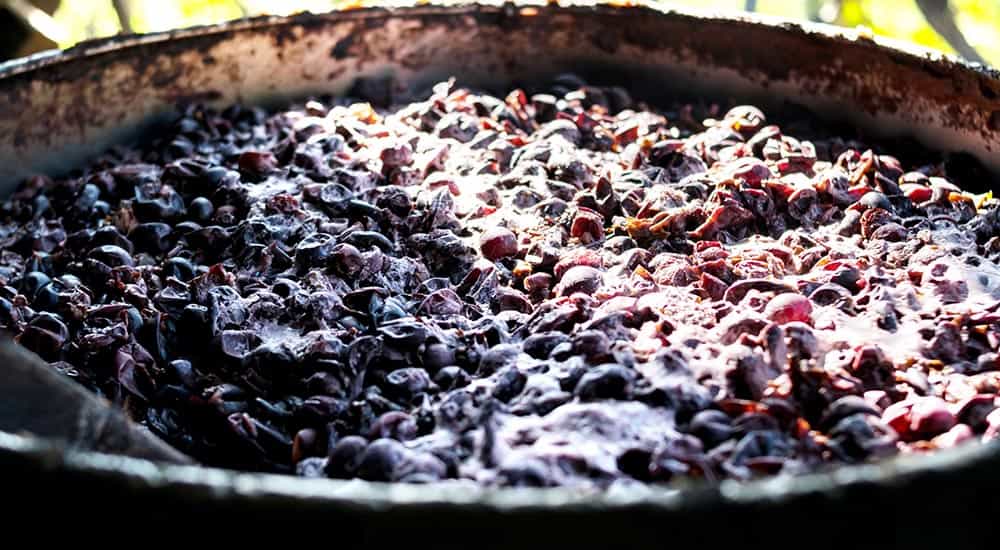 From responsible disposal, to handy recycling
Grape marc, or pomace, is the solid waste left over from pressing grapes into wine. Basically, it's leftover organic material that has no further benefit for wine makers. The sheer mass of grape marc produced in Australia numbers around 200,000 tonnes annually, making it an important environmental consideration.
However, even though grape marc has been used once, it is far from useless. Its organic properties have many applications outside of being disposed in landfill. It takes about 1.17 kilograms of grapes to produce a single 750 bottle of wine—so where does the rest of it go?
Before you dispose of your leftover grape marc, contact WM Waste Management Services. We know how to properly recycle and dispose of organic material like grape marc. With WM Waste Management, you can rest assured that you have made the environmentally conscious and ethical choice.
1. Use it as stock feed
Grape marc has long been used to feed cattle. Pomace is high in antioxidants, fibre, and other nutrients that are essential to the health of cattle. Grape marc is best used as a filler feed, supplemented with other nutrient-rich feeds.
Different types of pomace have varying degrees of moisture content, so be sure to monitor this. There's also the risk of grape marc feed carrying chemical residue from the wine making process, so every batch needs to be tested.
2. Distil more alcohol
That's right. Grape marc can be given a second wind as grape brandy or grappa, a traditional Italian spirit that's mainly served after dinner as a digestivo. Cheap and easy to produce, making grappa from grape marc is a popular application for home distillers around the country.
3. Make artificial leather
Veganism is becoming a prevalent cultural movement as people look to do their part to protect the environment. The manufacturing process of grape marc leather uses less water and power than traditional methods, while still retaining the aesthetic brilliance of animal leather.
Known as vegetal leather, this process won the 2017 Global Change Award from the H&M Foundation.
4. Scrub yourself
The organic benefits and exfoliant properties of grape seeds are an extremely popular beauty treatment. When dried out, crushed, and combined with other essential oils, pomace makes for soft, clear skin. And why pay a premium for an organic treatment when you can make your own at home?
Grape marc also has applications as a body polish, massage oil, and bath additives.
5. Fertilise the garden
Composting grape marc is an excellent way to reuse it in the garden or vineyard. On the whole, compost is beneficial in gardens for encouraging increased microbial activity, protecting roots, and improving filtration. Grape marc compost is very high in potassium, and must be monitored closely.
Located in the one of the world's most popular wine regions, this New Zealand company has composted grape marc and sold it back to wineries around Marlborough.
6. Use it as a substrate
Similarly, grape marc can be used as a substrate for traditional and hydroponic gardens. Substrates, or growing media, are the materials within which plants grow. The spaces between substrate materials allow roots to grow, and receive water, nutrients, and air without being impeded.
Grape marc as a substrate shows no toxicity, nitrogen immobilisation or chemical limitations. When blended with peat, the water content of grape marc substrate is drastically improved.
7. Create bioenergy
Like most organic materials, grape marc creates energy. Because it is incredibly rich in carbohydrates, a single tonne of grape marc produces up to 400 litres of bioethanol, which could potentially reduce power consumption of a winery by 50 per cent annually.
Biomass Producer, an affiliate of the Australian Government's Rural Industries Research and Development Corporation, has an interesting case study on using grape marc to power a distillery.
8. Cook up a storm
The same antioxidants, fibre and other nutrients that make grape marc a great stock feed also make it an excellent addition to cooking processes. Grape marc can be used to make cooking oil, flour, and more alcohol, which are perfect for vegan recipes and gluten-free cooking.
Check out this delicious recipe for grape marc powder cookies.
Contact WM Waste Management Services
Looking to get rid of your excess grape marc? WM Waste Management Services can assist. We are in the business of recycling hard and green waste around Melbourne, and are experts at ethically disposing of grape marc. Make the environmentally conscious choice, and let us take care of your waste.
Get an instant bin quote right away, or contact a member of our friendly team.