Waste management services in Yering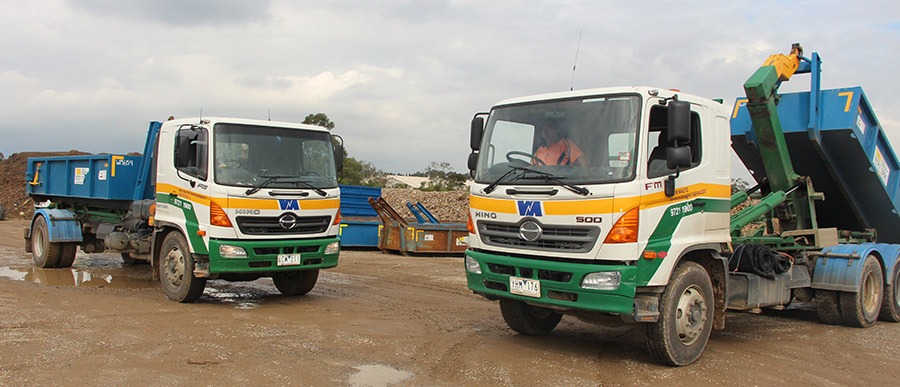 Since 1985, WM Waste Management Services have been providing invaluable rubbish collection services right across Melbourne.
We employ a crew of dedicated professionals to deliver convenient drop-off and collection of bins to help our customers get rid of their rubbish fast.
For customers in Yering, WM Waste offers skip bin hire and hard rubbish collection to make light work of your rubbish removal.
We provide the best customer service possible, and always have the satisfaction of our customers and the wellbeing of the environment at the forefront of our minds.
Skip bin hire Yering
Are you doing work around your home or business? Got a tonne of rubbish waiting to be disposed of? Then give WM Waste Management Services a call!
Our Yering skip bin hire service allows you to order a skip of your chosen dimensions and have it delivered straight to your home or business.
If you have rubbish that won't fit in your council rubbish bin or need waste removed outside of collection times, then WM Waste are here to help.
Skip bin hire is an efficient and cost-effective way of getting rid of any of the following items:
Building materials such as wood, plaster, metal, tiles, concrete, etc.
General household waste
General garden clippings and other green waste
Please be aware that while every effort is made to help you dispose of all your waste, there are just a few things we are unable to accept. These include:
Asbestos
Chemicals or liquid waste
Paint
Oil
Tyres
Gas tanks or bottles
If you do need help disposing of any items, call us on 1300 260 877 or get an instant quote for a skip in Yering today.
Green waste removal Yering
If you've been doing work around the garden or have a landscaping project underway, you'll need that green waste collected at some point.
WM Waste Management Services offers two convenient options for green waste removal in Yering and the surrounding area.
If you have a moderate amount of green waste taking up space, then we can come and collect it with one of our state-of-the-art electric rubbish trucks.
Another option is to hire a green waste skip bin. We can deliver the skip to you and pick it up at a time that is convenient for you. This is a great option if you're planning on doing ongoing yard work.
Here are some of the types of green waste we collect:
Grass clippings
Branches
Prunings
Leaves
Weeds
Hedge trimmings
There are some types of outdoor and garden waste we cannot remove, including:
Plastic plant pots
Artificial plants
Bricks and other construction materials
Stones and gravel
Once you contact us to book a collection, we will come and take your green waste to a treatment facility where it will be sorted and turned into compost. This compost will then be donated to public gardens and parkland to help grow new plants and trees.
Hard rubbish removal Yering
If you have hard rubbish that you need to get rid of, look no further than WM Waste Management Services! As a leading Yering waste removal company, we are here to help make it easier for you to dispose of white goods and other forms of hard rubbish, including mattresses and furniture.
We can help you to dispose of the following big and bulky items:
Sofas and couches
Tables and chairs
Mattresses and bed frames
Regular e-waste such as washers, dryers, TVs and computers
Other e-waste items such as fridges, freezers and air conditioners (these particular electronics will need degassing prior to removal. One of our trained technicians will do this for you)
As of 1 July 2019, the Victorian government has banned all e-waste from being sent to landfill. Via our sister company KTS Recycling, we can pick up e-waste and divert it away from landfill.
We are unable to accept some items with hard rubbish collection, including harmful or toxic substances such as:
Liquids
Chemicals
Petrol
Paint
Asbestos
At WM Waste Management Services, there's nothing hard about having your hard rubbish collected! We're proud to be Victoria's number one choice for hard rubbish collection. From our hub in Boronia right through to Yering, we take away all your unwanted items fast.
Book a hard rubbish collection or give us a call on 1300 260 877 today.