Waste management services in Mount Dandenong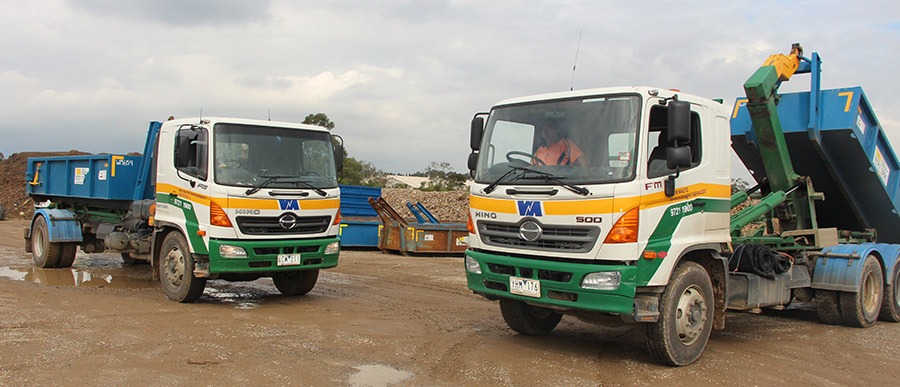 You can count on WM Waste Management Services to get rid of all your unwanted rubbish!
With over 35 years of experience, our crew of dedicated professionals have been leading the charge in keeping Melbourne clean and waste-free.
From our hub in Beronia in Melbourne's southeast right through to Mount Dandenong, we provide reliable rubbish removal for homes and businesses when you need it most.
Skip bin hire in Mount Dandenong
Need a skip to get rid of old junk and furniture? We offer skip bin hire in Mount Dandenong to help you dispose of waste that cannot fit or be put in council bins.
If you need your rubbish gone by a specific time or date, you can call us. We will deliver your skip to you when you need it.
You can hire a skip to get rid of:
Building materials such as wood, plaster, metal, tiles and concrete
General household waste
Garden clippings and other types of green waste
Please be aware that we are unable to dispose of toxic substances and any form of hazardous goods including:
Asbestos
Chemicals or liquid waste
Paint
Oil
Tyres
Gas tanks or bottles
If you're ready to hire a skip for your Mount Dandenong home or business, get an instant quote.
Green waste removal Mount Dandenong
If you've been landscaping or doing work in the garden, WM Waste Management Services gives you some convenient options for green waste removal in Mount Dandenong and the surrounding area.
While the Yarra Ranges Council offer green waste wheelie bins for Mount Dandenong residents, bigger jobs may require bigger bins.
Depending on how much green waste you need to get rid of, we can either come around with a waste disposal truck or set you up with a green waste bin.
Either option gives you convenience and value for money, allowing you to do your ongoing yard work at your own pace.
Here are some of the types of green waste we collect:
Grass clippings
Branches
Garden prunings
Leaves
Weeds
Hedge trimmings
While all effort is made to help you dispose of your garden waste, there are some types of green waste we cannot remove, including:
Plastic plant pots
Artificial plants
Bricks and other construction material
Stones and gravel
To book your green waste removal service in mount Dandenong, simply contact us and select a collection date. We will then arrive at your chosen time with either a rubbish truck or bin and will come back to remove your waste when you're ready.
All green waste collected is transported to a waste treatment facility and turned into compost.
Hard waste collection Mount Dandenong
At WM Waste, we're proud to be Victoria's leading choice for hard rubbish collection.
We make it easy for you to dispose of bulky items including furniture and white goods. No need to make costly trips to the local tip! Just give us a call and we'll make short work of your rubbish disposal.
When you book a hard waste collection in Mount Dandenong, you're free to dispose of the following items:
Couches and sofas
Chairs and tables
Mattresses and bed frames
Regular e-waste such as washers, dryers, TVs and computers
Other e-waste items such as stereos, fridges, freezers and air conditioners (our trained technicians will help with degassing these items before disposal)
As of 1 July 2019, the Victorian government has banned all e-waste from being sent to landfill. E-waste is described as being any device or appliance that uses electricity/has a power cord, plug or battery.
With help from our sister company KTS Recycling, we can pick up your e-waste and divert it away from landfill for more sustainable disposal.
There are some hard rubbish items we cannot accept, including:
Liquids
Chemicals
Petrol
Paint
Asbestos
WM Waste maintains a mindful approach to all our hard rubbish and waste collection services. After we remove your waste, we sort through the items and put them to the best possible use. We will recycle where possible so that only the smallest amount of residual waste ends up in landfill. You can read more about our Environmental Policy here.
WM Waste Management Services are committed to providing you with the most convenient and affordable skip bin hire and rubbish removal service possible.
If you live or work in Mount Dandenong and need your rubbish gone ASAP, book for a hard rubbish collection or give us a call for more info about our waste services on 1300 260 877.