Waste management services in Mornington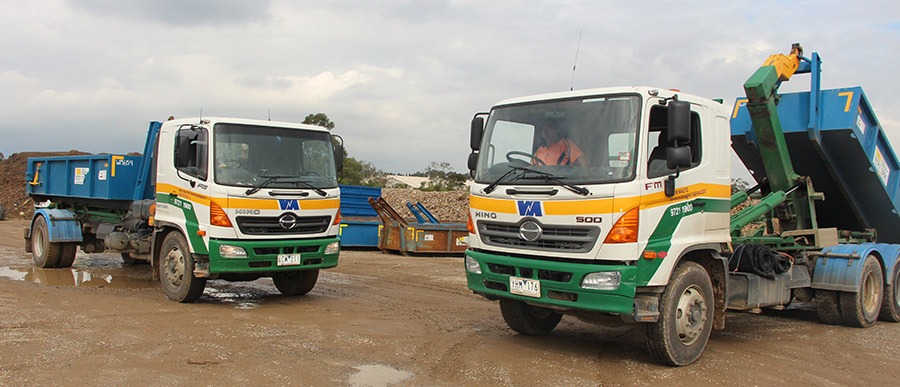 WM Waste Management Services is one of the most trusted names in rubbish and hard waste collection in Mornington.
Keep the Mornington Peninsula clean and free of household waste by booking a skip bin or waste collection service with our trusted staff. WM Waste Services are professionals when it comes to hard rubbish collection, mattress recycling, green waste removal, and skip bin hire for residents or professionals within the Mornington Shire.
We have supported communities within Melbourne for over 35 years; providing an efficient and affordable waste collection service for all. Whether you're cleaning out your home or working on a job site, WM Waste makes the process of getting rid of unwanted rubbish simple and stress-free.
Get rid of your rubbish fast! Call WM Waste Management Services get an instant quote for skip bin hire in Mornington.
At WM Waste Management Services, we know what our customers need. That's why we go above and beyond in delivering a range of waste collection services, including:
Hiring a skip bin in Mornington
When moving, renovating, or spring cleaning — mess is always inevitable. Don't grow discouraged with your home or business project because of this. Hire a skip bin from WM Waste Management Services and take the stress out of cleaning up!
With our range of hire skip bins, you can be guaranteed the quickest and most affordable rubbish removal solution! Our skip bin hire service allows residents and workers in Mornington to save time and money, meaning you can get rid of junk quickly without having to spend a fortune.
When you arrange to hire a skip bin hire in Mornington, we do it all for you. Whether it's your home or job site, we will deliver your bin directly to you and then pick it up whenever you're ready.
From the first point of contact, you'll be guided by our helpful team in deciding what bin type is right for you and what waste you can safely dispose of.
The list of items permitted to be thrown into a skip bin include:
Wood, plaster, metals
General household hard rubbish
Green waste and soil
Tiles, bricks, concrete
The following items are not permitted in a skip:
Asbestos
Chemicals
Oil
Paints
Food waste
Liquid waste
Tree stumps
Tyres
Gas bottles or gas tanks
For any of the items above, you may contact us for further advice or alternatively reach out to your local council or nearest landfill for instructions on how to safely dispose of prohibited items.
Choosing the right skip bin
One of the reasons customers love choosing us as their preferred choice of skip bin hire in Mornington Peninsula is because of our range of bins suited to handle any job!
Skip bins for hire in Mornington are available in all types of dimensions, from small and portable to large walk-in bins:
2-meter bins (approx. 3 box trailers)
3-meter bins (approx. 4-5 box trailers)
4-meter bins (approx. 6-7 box trailers)
6-meter bins (approx. 9-10 box trailers)
9-meter bins (approx. 12-15 box trailers)
11-meter bins (approx. 16-18 box trailers)
15-meter bins
23-meter bins
We have four waste categories to help you select the right sized bin for the job. These include:
Light and mixed – wood, plaster, tin, household items, green waste
Heavy – tiles, bricks, concrete, and soil
Concrete – for 100% concrete removal
Dirt – for 100% clean soil removal.
If you don't know what bin type or size is right for you, ask our helpful team for advice. We can also provide you with an instant skip bin quote online so you know exactly how much you'll be up for – there's never any sneaky fees or surprises when hiring a skip from us!
Waste removal when and where you need it
With WM Waste Management Services, you can clean up your property and enjoy a clutter-free space in no time!
There are just three easy steps to hiring a skip bin from us:
At WM Waste, we want to help you get rid of your trash — fast. To find out how much your specific bin hire will cost, simply complete our online form. You will then receive an instant quote detailing how much your skip hire will be.
Book your delivery and pickup date
Once you're ready to move forward, simply select a date and time for your skip delivery and pickup. Depending on availability, we may also provide same-day delivery and pickup for those urgent tasks.
Your waste will be collected on your chosen pickup date and taken to the Knox Transfer Station and other tipping facilities to ensure sustainable processing and maximum recycling wherever possible.
Solve your clutter by calling WM Waste Management Services. For skip bin hire in the Mornington Peninsula, get an instant quote today.