Skip Hire Mordialloc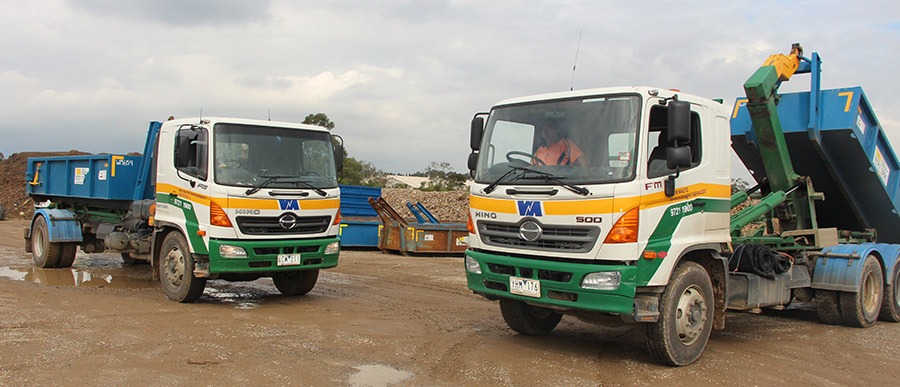 All skip bin sizes for your hard rubbish collection, Mordialloc
Mordialloc skip bins for homes & business
As part of Kingston City Council, Mordialloc's residents are entitled to one hard rubbish collection each year. However, this comes with strict restrictions on the amount and type of waste collected.
We take pride in doing our best for all our customers at WM Waste. You don't need to worry about the council's waste removal limitations with us. Our huge range of convenient Mordialloc skip bin hire is available for most waste types. We have skip bins to handle even the most extensive commercial clean-up or recycling job.
We're here for you, whether you're disposing of grass clippings, green waste and soil, or old furniture, concrete, and bricks. Save money and space with our comprehensive service. Contact our friendly waste removal experts for a free quote on bin hire in Mordialloc. We can even arrange Same-day delivery so you can get rid of all the waste faster.
Get a permit for your skip bin hire, Mordialloc
You don't need a council permit if you want your skip bin hire delivered and positioned on your property. However, you must have a permit if your bin hire in Mordialloc is on council-owned lands, such as a nature strip, road or footpath.
Our highly experienced and knowledgeable team at WM Waste have been working with the council for decades. We have an excellent working relationship with them and will work on your behalf to obtain all appropriate permits efficiently before your skip bin hires delivery.
Responsibilities during your Mordialloc skip bin hire
When you get a skip bin hire in Mordialloc, there are specific responsibilities that you must adhere to. These include ensuring that your bin hire is manageable and that all trash you dispose of remains secure within the bin. The waste inside your bin hire must not rot or cause offensive odours.
The experienced WM Waste team will position your skip bin appropriately following the VicRoads Code of Practice, with reflective tape and, if necessary, flashing lights. However, you are responsible for ensuring that your skip bin remains in place throughout your hire.
Why choose WM Waste Management Services?
WM Waste is renowned across Melbourne as an expert in the rubbish removal and recycling industry. Our family-owned company is committed to reducing landfill and providing environmentally friendly solutions to waste management.
Since 1985, we have developed streamlined, comprehensive services to handle all types of waste and recyclable materials. So whether you require a large bin to recycle cardboard boxes or you're looking for a skip bin for green waste or dirt, we've got you covered.
As our valued residential and commercial customers can attest, look no further for exceptional skip bin hire, Mordialloc. Our large range of bin sizes is guaranteed to meet all your disposal needs.
Frequently Asked Questions
What are the waste removal requirements in Mordialloc?
Mordialloc falls within the Kingston City Council jurisdictions. There are strict regulations on the volume and type of hard waste they will collect in your annual pickup. For example, there is a limit of two cubic metres, all items must be under 1.5m, and fridges and freezers must have their doors off. Bricks, tree prunings, broken glass or bagged rubbish, are not accepted, and so the list goes on.
Our professional team at WM Waste offer skip bins of all sizes to meet all your waste management needs. Contact us today for a free quote. We can even drop off a suitable skip bin size to your property within the same day.
What type of rubbish can I get rid of in my Mordialloc skip bin for hire?
With WM Waste's superior rubbish removal and recycling services, you can dispose of many types of waste. The following residential and commercial waste types are included in our skip bin hire, Mordialloc.

Soil and dirt
Green waste and grass clippings
Building materials such as concrete, scrap metal, bricks and rubble
Electronic waste
Hard rubbish
The following hazardous waste types are not included in our waste removal services:
Chemicals or other liquid waste
Paint
Oil
Asbestos
Tree stumps
Tyres
Gas bottles
If you have questions about the waste you are disposing of, contact our friendly Mordialloc team, who will be happy to help.
How do I choose the right size skip bin for waste collection in Mordialloc?
Our comprehensive service has all sizes of skip bins to meet all your waste disposal and recycling needs in Melbourne. WM Waste's skip bins range from mini skips at one cubic metre to large walk-in bins at 23 cubic metres. So we've got you covered, whether you're clearing your garage or a construction site full of building materials.
Contact us for an obligation-free quote. We need your address and the waste types you'd like to remove. Our prompt service will deliver the correct skip bin to your home or business as soon as possible.
What are the different categories of waste you collect?
When hiring skip bins in Mordialloc, our valued customers can select a range of waste types to remove or recycle. See the categories below.
Light and mixed – wood, plaster, tin, household items, and green waste
Heavy – tiles, bricks, concrete, and soil disposal
Concrete – 100% concrete removal
Dirt – 100% clean soil removal