Hard rubbish collection specialists in Monbulk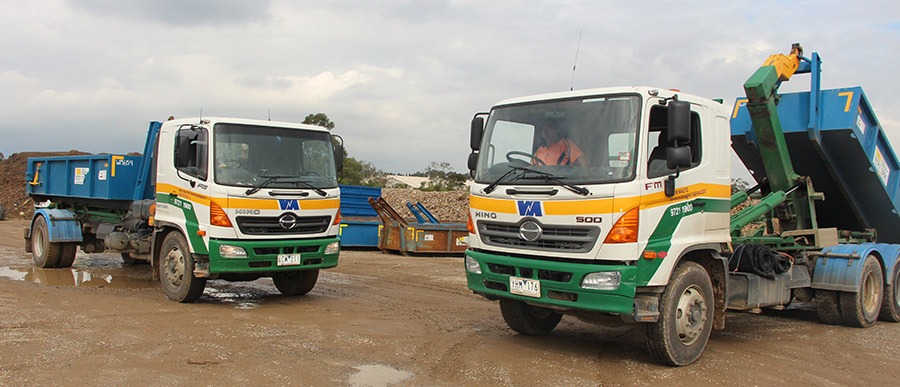 Since opening shop in 1985, WM Waste Management Services have earned a reputation for reliability, customer service and sustainability. When the people of Monbulk need skip bins and rubbish collection services, we will deliver that same experienced effort to them.
We also aim to be as environmentally friendly as possible. Resource recovery is built into our business, and we recycle and reclaim as much waste as possible. You might say we try not to let anything go to waste.
Here's a quick look at what Monbulk's most dependable waste management service has to offer.
Begin with a consultation
In 3 simple steps, our team will sort you out with the right waste management solution for your needs. Whether you need a little skip bin or a massive walk-in roller bin, we've got you covered. Here's what needs to happen:
Define your waste, then your service.
We need to know what kind of waste you need collected. You may already have the waste waiting for pick up, or you might have an upcoming project you need to plan for. The service we'll suggest depends on the waste you have.
Skip bin hire: our bins come in all shapes and sizes
Solid waste management: we provide hard waste and green waste removal
Knox Transfer Facility: our sister business specialises in recycling e-waste, mattresses, paints and more.
Discuss your quote.
Once you're happy with our options, we'll provide you a quote on your choice.
Lock in your order.
With your quote approved and your order placed, all's right with the world. We'll handle the drop off and pick up of the skip bin for a hassle-free experience.
Waste we accept
Our waste management solutions cater to all needs situations. Whether we're needed at a garden project or an industrial site, we'll take practically anything.
Garden waste
Household waste
Wood
Plaster
Metal
Tiles
Bricks
Concrete
Soil (must be clean soil)
We can organise skip bins exclusively for concrete or soil. It makes it a lot easier for us to recycle those materials, and you'll get a reduced fee, too!
Waste we can't accept
Some materials are simply too dangerous for our teams to safely remove and sort through. We cannot accept:
Asbestos
Food waste
Chemicals
Liquids
Paints
Oils
Gas tanks and bottles
Tree stumps
Tyres
Green waste removal
When your green bin isn't enough, it's time to call in the specialists. Our solutions scale to fit the job, so Monbolk's garden renovators and eager gardeners can find a green waste management solution to suit their needs.
One option is to organise a truck collection. If you've got a small to moderate load of green waste, we'll organise a time for our 100% electric truck to pop over and pick it up.
Another option to set you up with a green waste skip bin. That way, you can fill it up in your own time as your project progresses.
Here are lists of what we can and cannot accept for green waste disposal.
Garden waste we accept
Leaves
Weeds
Branches
Garden pruning
Grass clippings
Hedge trimmings
Garden waste we can't accept
Metal
Glass
Plastic
Construction rubble
Stones and rocks
Gravel and bricks
We pride ourselves on our green initiatives. So, if you're wondering what happens to your green waste, we can assure you it's all good. Your waste is purified and composted. When it's ready, we donate it to community gardens and farms.
Hard rubbish removal
Fridges, TVs, computers, mattresses… If it won't fit into your weekly bin, then a hard rubbish collection might be the way to go.
Your local council likely offers yearly hard rubbish disposals, but there may be restrictions that force you to look elsewhere. You may have too much hard rubbish, or the wrong type for them to remove. The Victorian Government has also banned e-waste from landfills, which may also be a factor for your council.
Maybe we can help. Between us and our sister company, KTS Recycling, we can find a hard rubbish removal solution for practically any job.
Hard rubbish we accept
Fridges
Clothes dryers
Freezers
Kitchen stoves
Heaters
Washing machines
Dishwashers
Microwave ovens
Air conditioners
Kitchen ovens
Hard rubbish we can't accept
Asbestos
Chemicals
Liquids
Petrol
Paint
Monbulk's most dependable skip bin and waste management service is ready to help.
Whether you've got a project to plan or waste ready to go, contact us today, and speak to our specialists for a quick and easy quote.