Hard Rubbish Collection Mentone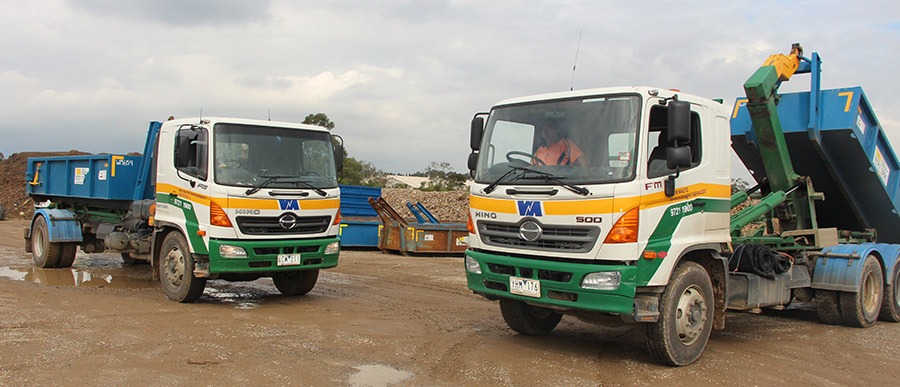 Skip bin hire Mentone
Mentone skip bins for homes & business
WM Waste Management has serviced Melbourne and the Mornington Peninsula for over four decades. During this time, we have developed streamlined, innovative processes to ensure convenient and affordable rubbish collection, skip bin hire and recycling to handle every scale of clean-up.
The Mentone area falls within the Kingston City Council jurisdiction, which provides its residents with one free hard rubbish collection each year. This collection has restrictions on the volume and different types of waste collected. If you are a commercial business, then you are excluded.
With our extensive rubbish removal services, we've got you covered. You can dispose of almost any waste with our reliable skip bin hire, from general waste to green waste and soil. Contact our friendly professionals today for a free quote on hard rubbish collection, Mentone.
Get a council permit for your skip bin hire
If you plan to place a skip bin on the nature strip, road or any other council-owned land, you must first obtain a permit from Kingston City Council. Skip bin permits can only be issued to licenced skip bin hire providers, such as ourselves, so we handle everything for you.
Over the decades, our experienced team have developed strong working relationships with councils across Melbourne. As a result, we process your permit application efficiently, meaning you won't be left waiting for us to deliver your skip bin hire.
Your bin hire responsibilities
There are specific guidelines that you need to follow when hiring skip bins. Reading the VicRoads Code of Practice for skip bin hire is a good start. WM Waste's experienced team will ensure your skip hire is positioned correctly with reflective tape and flashing lights. However, you are responsible for ensuring the skip bin remains in place throughout your hire.
Irrespective of the bin size you're hiring, you need to secure all items inside the skip bin and be mindful of not overfilling it. If you are unsure of anything during your hire, contact our professionals, who will be happy to help.
Why choose WM Waste Management Services?
At WM Waste Management, we constantly strive to provide customers with outstanding service at every stage of your rubbish removal. Over the decades, we have developed efficient and innovative processes to reduce landfill, as demonstrated by our pioneering recycling facility with Knox Transfer Station.
With our vast range of skip bins, from easy-access walk-in bins to mini skips, we help you dispose of all waste types hassle-free. From organising your council permit to same-day delivery on our skip bins, we do our best to ensure your rubbish removal process in Mentone, Vic, 3194. We've got you covered.
Frequently Asked Questions
What are the waste removal requirements in Mentone?
Kingston City Council has strict limitations on the different types and volumes of waste included in their one annual hard waste collection. For example, they do not collect bricks, concrete or soil, tree prunings, broken glass, or bagged rubbish. With a rubbish removal limit of just two cubic metres, excluding rubbish from commercial premises, we appreciate that this service can easily fall short of your clean-up requirements.
WM Waste Management Services is here to make life easier. Our convenient, extensive range of skip bins, rubbish collection and recycling services offer affordable and stress-free solutions to your waste management needs, no matter the scale.
What type of rubbish can I get rid of in my Mentone skip bin for hire?
Our comprehensive rubbish removal and recycling services allow you to dispose of almost any waste. See below for the residential and commercial waste types included in our skip bin hire, Mordialloc.

General waste
Soil and dirt
Green waste and grass clippings
Builders' waste, including concrete, scrap metal, bricks and rubble
Electronic waste
Hard rubbish
Mattresses
See the list below of hazardous waste types not included in our waste management service:
Chemicals or other liquid waste
Paint
Oil
Asbestos
Tree stumps
Tyres
Gas bottles
If you have questions about skips or a waste type, contact our friendly Mordialloc team, who will be happy to help.
How do I choose the right size skip bin for waste collection in Mentone?
WM Waste Management offers a comprehensive skip bin range to meet all rubbish disposal needs, from residential to large-scale industries. Our smallest skip bins are mini skips (one cubic metre) extending to large walk-in bins (23 cubic metres). So irrespective of the waste type or amount of rubbish, we've covered you.
Fill in our online form for an obligation-free quote, or speak with our helpful team today. Our proficient service will ensure the correct skip bin arrives at your home or business as soon as possible.
What are the different categories of waste you collect?
When hiring skip bins in Mentone, you can select a range of waste types to remove or recycle. Our skip bins can be divided into the following categories.
Light and mixed – wood, plaster, tin, general waste, household items, and green waste
Heavy – tiles, bricks, concrete, and soil for disposal
Concrete – 100% concrete removal
Dirt – 100% clean soil removal