Waste management services in Lilydale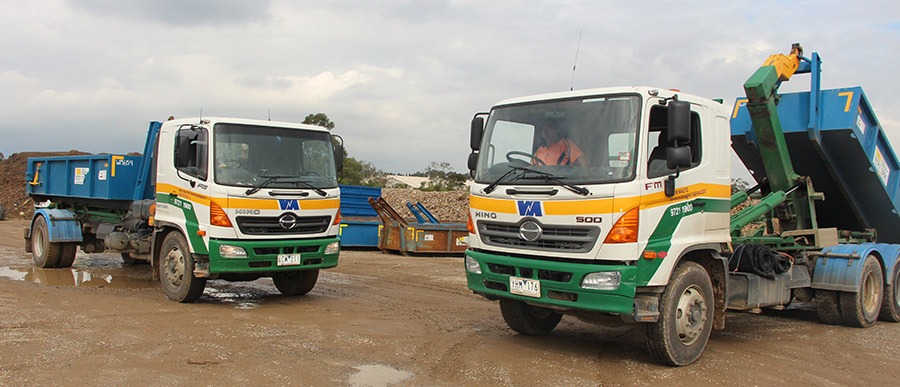 WM Waste Management Services delivers essential rubbish removal solutions and skip bin hire for Lilydale residents and businesses.
Since 1975, our team of dedicated professionals have been actively involved in the drop-off and collection of rubbish skips and affordable waste removal for the convenience of our customers.
Our commitment to the community extends beyond supplying bins for waste removal; we also endeavour to protect the environment and preserve the beauty of the Yarra Ranges.
We manage everything from hard rubbish removal, old mattress collections, recycling, green waste removal, skip bin hire, and more.
We'll solve your rubbish – so you don't have to! Call WM Waste on 1300 260 872 or get an instant quote for skip hire in Lilydale today.
WM Waste is here to solve your rubbish dilemmas. Whether you're vacating, renovating, or simply wanting to free up more space, our team of over 50 refuse collectors are on-call and ready to dispose of almost any waste type you might have.
Servicing Lilydale and surrounds, our hard rubbish collection and skip bin services saves you costly trips to the tip and the manual labour of having to carry heavy loads.
When you choose us, you're getting reliable and fast service – helping you to get rid of unnecessary clutter sooner.
With WM Waste, you get the convenience of having the following rubbish removal solutions:
Skip bin hire in Lilydale
Hiring a skip has to be one of the easiest, most cost-effective ways to remove your rubbish.
Luckily, WM Waste has the widest range of bin sizes Melbourne has to offer, with skips ranging from 2-metres all the way to large 23-metre walk-in bins.
That means you can easily and safely dispose of all large, bulky, unwanted items that don't fit or are not permitted in your regular council bin.
When you're ready to hire a bin in Lilydale, please make sure that your items are on our list of permitted materials:
Wood, plaster, metal
General household hard rubbish
Green waste and soil collection
Tiles, bricks, concrete
While we make every effort to dispose of all waste items, there are some materials that are not permitted. These include:
Asbestos
Chemicals
Liquid waste
Paint
Oil
Food waste
Tree stumps
Tyres
Gas bottles or gas tanks
If you're not sure what you can or can't put in your skip bin, contact our helpful team and we'll be glad to help!
Lilydale rubbish collection and removal
We make the process of waste removal and hard rubbish collection in Lilydale easy.
With WM Waste Management Services, you are guaranteed all your items will be removed in a fast and safe manner.
When you hire a bin from us, we will deliver your skip to your chosen address, letting you fill it with whatever unwanted rubbish or old goods you need to get rid of. From there, we will come and collect your skip at a time that suits you.
Hiring a skip in Lilydale is as easy as 1, 2, 3!
Select your waste type and bin size
Get an instant quote
Order a bin
This simple process makes it easy for you to get on with life and not waste precious time or resources on doing away with waste.
Do you have a business in Lilydale? Our waste services extend to commercial waste removal and hard rubbish collection for businesses in Lilydale and the Yarra Ranges. Get in touch with us today to organize your business waste collection.
Why choose WM Waste for your Lilydale rubbish removal
We are the easiest, most efficient bin hire and waste collection company in Lilydale and surround.
Melbourne's most trusted rubbish removal service for over 35 years, WM Waste Management Services offers unparalleled customer service and responsible waste management.
Our skip bins allow local businesses and residents to recycle effectively, while our environmentally-friendly waste disposal methods ensure the protection and management of our environment.
When you choose WM Waste for your rubbish collection and waste disposal needs, you will always get:
Customer satisfaction: We offer customers a free instant quote so they know exactly what they'll be paying.
Reliable waste removal: White goods, mattress removal, e-waste collection, furniture removal and more – if you've got it, we can get rid of it!
Modern solutions: We are always on a quest to improve our services; taking our customer feedback seriously. We use modern equipment and trucks for the most efficient rubbish collection.
For the best rubbish removal and skip bin hire Lilydale has to offer, contact us at WM Waste Management Services today.