Waste management solutions in Kallista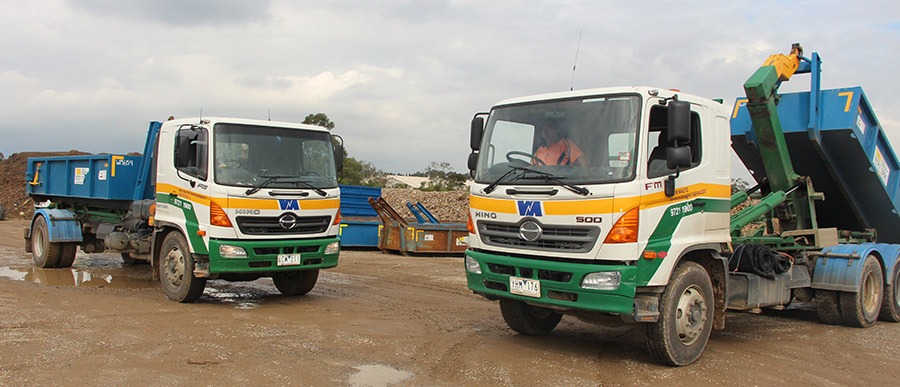 WM Waste Management Services is Melbourne's leading waste removal company. Established in 1985, our rubbish collectors have been creating reliable and affordable waste management solutions for Melbourne residents for nearly four decades.
The foundation of our business provides waste management solutions that suit your timeframe and budget. We can assist with commercial waste collection, green waste removal, hard rubbish collection, mattress recycling, general rubbish removal, mini and maxi skip bin rental.
As an Australian-owned business, we care about our local wildlife and environment. Therefore, we strive to make our waste services as environmentally friendly as possible. Our slogan is, "We care, so we recycle", which is the pillar stone of how our business operates.
We operate across all of Victoria's south-eastern suburbs from Ringwood to Mornington, Kallista and beyond. With WM Waste, you'll never have to search for another waste management company ever again.
If you're looking to start hiring a skip bin in Kallista, then contact the WM Waste team for fast, reliable and affordable waste collection services.
What type of waste do we accept?
Whether you need to hire a skip bin to clean out a house or you're taking on a sizable commercial project, we accept a range of different waste materials. The waste we accept includes:
Garden waste
Household waste
Wood
Plaster
Metal
Tiles
Bricks
Concrete
Clean soil
We're happy to organise a soil-only or concrete-only skip for your worksite, just ask us how!
Waste we don't accept
Although we always like to offer flexible waste management solutions, certain types of waste and materials aren't suitable for our skip bins. This includes:
Asbestos
Food waste
Chemicals
Liquids
Paints
Oils
Gas tanks and bottles
Tree stumps
Tyres
We endeavour to keep our team safe during the removal and disposal of waste. Therefore, we do not handle materials that contact any liquid, gas or hazardous chemicals.
Hard rubbish removal
For any item that is too large for your general rubbish collection, we offer hard rubbish removal. What is considered "hard rubbish", you might ask? Hard rubbish can include anything from electronics to fridges, mattresses and more.
If you're not keen to wait for your annual council rubbish pickup, we can help you out with quick and easy hard rubbish removal, and we pretty much accept anything.
Hard rubbish we accept
Fridges
Clothes dryers
Freezers
Kitchen stoves
Heaters
Washing machines
Dishwashers
Microwave ovens
Air conditioners
Kitchen ovens
Electronic devices
What we don't accept
Asbestos
Chemicals
Liquids
Petrol
Paint
In some states, like Victoria, there are certain restrictions on the types of hard rubbish materials you can dispose of. For example, in 2019 the Victorian Government banned e-waste in landfills. E-waste includes electronic items like computers, televisions, phones, vacuum cleaners etc. Our sister company, KTS Recycling can help you sort and recycle your e-waste.
Green waste removal
If you don't have a green waste wheelie bin, or you're taking on a large landscaping project and are looking for a bigger option, consider our green waste removal service. Green waste includes any 'garden organic' material like branches, leaves, plants and more.
Green waste we accept
Leaves
Weeds
Branches
Garden pruning
Grass clippings
Hedge trimmings
What we don't accept
Metal
Glass
Plastic
Construction rubble
Stones and rocks
Gravel and bricks
Depending on how much green waste you have, you can order our garden waste pickup service or, we'll set you up with a green waste bin on-site.
Once we've collected your green waste, we sort it at our warehouse and remove any inorganic material that might have slipped through. We then clean and heat the waste to turn it into compost, and once it's ready, we donate the compost to local farms and public gardens.
Contact us for a consultation and quote
We can get your waste management solution sorted in just three easy steps.
We define your waste and service type required
The first step of our consultation is identifying the type of waste you have and what service you'll require, whether that's skip bin hire, pick up and removal, or recycling services.
We get a quote out to you
After we've discussed the type of service you'll need, we will provide you with a quick quote and flexible options.
Once you're happy with the quote, we'll then lock in your date, time and service, and you're all set!
For fast, affordable and reliable waste management solutions, trust the experts at WM Waste. With nearly 40 years of experience and a commitment to environmental sustainability, you can trust that your waste will be handled the right way.