Professional, affordable skip bin hire in Hampton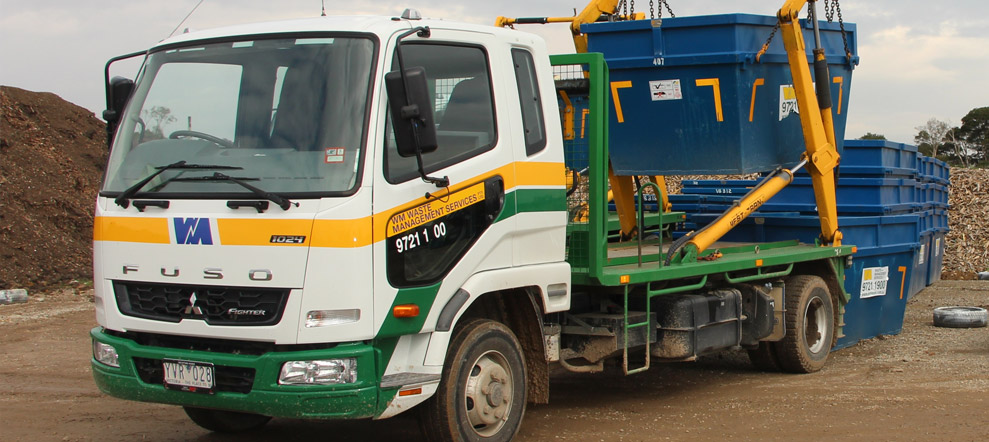 Hampton rubbish removal services for homes and businesses
Need to get rid of your green waste, old furniture, scrap metal or recyclable materials? You've come to the right place. The team at WM Waste are experts in their field and have provided comprehensive rubbish removals and skip bin services to the Hampton area for many decades.
We understand that residential rubbish collection requirements can easily exceed the council's two hard waste collections per year. Our rubbish removal experts are here for you with an efficient service when you need it. Our comprehensive range of skip bins and rubbish removal services means there's no job too big or too small for our professional team. So, whether you need to dispose of commercial building materials, garden waste or general waste, you can rely on WM Waste.
Contact our friendly team on 1300 260 872 for a free quote or to get an affordable skip bin delivered today.
Permits for commercial and residential skip bins in Hampton
You'll need a permit for your skip bin if you want to place it on a road, driveway, nature strip or side street. As a certified rubbish removal company, WM Waste have existing permits with the Bayside City Council for all skip bin hire placement.
With our reliable and efficient services, you can dispose of your waste safely and without the hassle of filling in council forms and applications. And, no matter the waste type or rubbish removal service you require, we have a skip bin size to meet your needs – at an affordable cost.
Contact our professional team today, and we will liaise with the local council to register a skip bin permit on your behalf so that you don't have to worry.
Your responsibilities when hiring skip bins in Hampton
The local council outlines a number of skip bin hire regulations that must be adhered to. Our rubbish removal experts are familiar with these and will clearly outline them to you upon your skip bin delivery. We will help position your skip bin correctly, per the VicRoads Code of Practice, but you must ensure that it stays in place throughout your hire period.
It is essential to keep all skip bins secure. This means ensuring that all green waste and hard rubbish remain within the skip bin and that you do not overfill it. Contact our experienced team anytime if you have questions regarding your bin hire.
For reliable rubbish removals in Hampton without the heavy lifting, call WM Waste Management Services on 1300 260 872 today or click here for a free quote.
Why Choose WM Waste Management Services?
WM Waste are a team of highly experienced and innovative professionals who are passionate about delivering affordable, environmentally-friendly rubbish removal options. We have been trusted leaders in rubbish removals and recycling across Melbourne since 1985, and our long-standing partnership with Knox Transfer Station recycling facilities is a testament to our commitment to reducing landfill.
Our reliable and comprehensive service will save you time and money in Hampton. With a wide range of bin sizes, WM Waste can help you dispose of junk, general waste, concrete, bricks and other construction debris, plants, soil and general garden waste. WM Waste can meet all your rubbish removal needs at your convenience, so why go elsewhere?
Frequently Asked Questions
What are the rubbish removal guidelines and requirements in Hampton?
There are strict council guidelines for all rubbish collection in Hampton. For example, the council does not collect rubbish from commercial businesses, industry or domestic building sites. That's why WM Waste rubbish removals are here for you. We can take care of all your waste disposal, and rubbish removal needs in Hampton, no matter the scale. So contact our experienced team today for a free quote! We can even arrange a same-day skip bin delivery if you need it.
What types of rubbish can you remove with your skip bins?
At WM Waste, we provide our customers with a wide range of rubbish removal options to enable you to clean up your backyard, garage or commercial property, irrespective of the waste type. With our professional service, you can dispose of a wide variety of residential and commercial junk, including:

Old furniture and furniture pieces
Soil, plants and garden waste
Construction waste such as bricks, concrete and rubble
Electronics
Recyclable items
General waste
Hazardous waste type items not covered in our rubbish disposal service include:
Chemicals and other liquid waste
Oil
Paint
Asbestos
Tree stumps
Tyres
Gas bottles
Medical waste
If you have questions about our cost-effective skip hire in Hampton, call our friendly team on 1300 260 872.
WM Waste can meet all your rubbish removal needs with a wide variety of bin sizes.
With skip bins ranging from 1 cubic metre to 23 cubic metres, we're confident we can meet your rubbish disposal requirements. Our skip bins suit a range of purposes and can be hired when you're clearing out your garage, landscaping your garden, or even cleaning up a construction site! Just about anything can be loaded into our skips. And our efficient and reliable professional team work hard to ensure your entire rubbish removal process is smooth and hassle-free from start to finish.
Get rid of unsightly waste that's taking up space at your home or business, and contact us for an instant obligation-free quote. Simply let us know the location of your property in Hampton and the waste type you're looking to remove and we'll get back to you with a quote for a skip bin that best suits your needs.