Hard rubbish removal specialists in Ferny Creek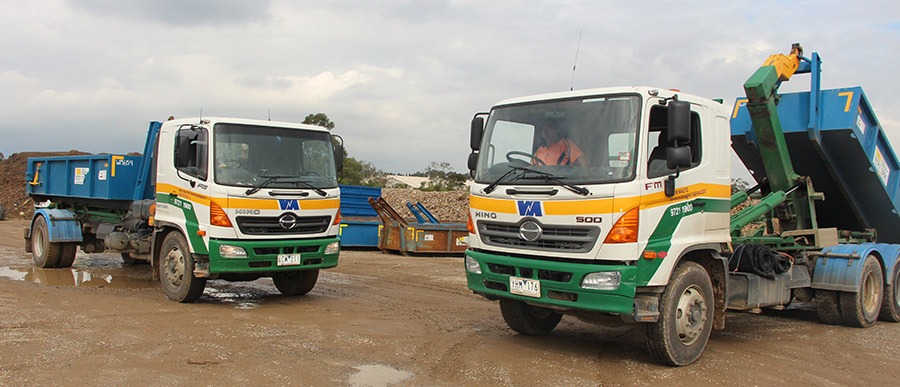 WM Waste Management Services have been Melbourne's most reliable rubbish collectors since 1985. From Port Sea to Cambarville to Ferny Creek, we make the effort to reach you, wherever and whenever you need us.
Our Ferny Creek customers can rely on our professional team to organise skip bin hire and waste collection to meet their demands.
We are Melbourne's environmentally friendly ally in waste management. our values are as strong as our service. Our teams sort your waste and find alternatives to landfills wherever we can.
If you're looking for the best waste management service in Ferny Creek, then here's what we can do for you.
Contact us for a consultation
If you're struggling with picking the right skip bin for your job, let us help. Our team will determine a suitable solution in 3 simple steps.
Work with us to define your waste and the service you need:

Skip bin hire: our bins come in a variety of sizes, including large walk-in skips.
Solid waste management: we accommodate a large variety of hard waste.
Knox Transfer Facility: we do our best to avoid landfills usage by recycling and trading waste.

We'll sort you out with a quote.
Now that we understand your needs, we will provide you with solutions and their costs.
Place your order.
Once your order is placed, we will organise the drop off and pick up of your skip bins. No problems, no worries.
Waste we accept
With over 30 years of experience, we have the capability to accept nearly anything. Here's a list of the waste we can accept:
General household waste
Garden waste
Wood
Plaster
Metal
Tiles
Bricks
Concrete
Soil (must be clean soil)
We will gladly organise exclusively soil and exclusively concrete bins — and throw in a reduced fee for you, too!
Waste we do not accept
In order to keep our waste sorting teams safe, there are certain types of waste that we simply cannot accept in our skip bins:
Asbestos
Food waste
Chemicals
Liquids
Paints
Oils
Gas tanks and bottles
Tree stumps
Tyres
Green waste removal
Whether you're planning a major garden renovation, or are yourself just a keen gardener on a mission, you'll need a green waste management solution. Little green wheelie bins don't always cut it.
For our green-thumbed Ferny Creek clients, we have multiple options for green waste removal. It all depends on which one is more convenient for you.
If you have a small to moderate green waste load, then we can simply send the truck around. Our 100% electric truck will swing by at a convenient time to pick up your waste. This is precisely what we meant when we said our values were as strong as our service.
Our other option is to sort you out with a green waste skip bin. Contact us to discuss the best size for your waste, and leave it to us to organise the drop off and pick up.
And what happens to your green waste? We turn it into rich, nutritious compost, of course. Your green waste will be sorted, purified and donated to farms and public gardens.
Naturally, we have to be clear with what we can and can't accept in our green waste skips.
Garden waste we accept
Leaves
Weeds
Branches
Garden pruning
Grass clippings
Hedge trimmings
Garden waste we don't accept
Metal
Glass
Plastic
Construction rubble
Stones and rocks
Gravel and bricks
Hard rubbish removal
What is hard rubbish? Well, basically anything you cannot fit into your weekly rubbish disposal. Hard rubbish would include large electronics, mattresses, fridges and the like.
While your council likely provides you with yearly hard rubbish collections, they may have significant restrictions on what they will accept, and how much of it, too. That's where we can help you.
One such restriction will be the removal of e-waste. The Victorian Government banned the disposal of e-waste in landfills in 2019. For your e-waste, we'll work with our sister company, KTS Recycling, to ensure that every item is properly sorted and recycled.
We accept all manner of hard rubbish — in fact, it's probably easier if we list what we don't accept first.
Hard rubbish we don't accept
Asbestos
Chemicals
Liquids
Petrol
Paint
Hard rubbish we do accept
Fridges
Clothes dryers
Freezers
Kitchen stoves
Heaters
Washing machines
Dishwashers
Microwave ovens
Air conditioners
Kitchen ovens
All manner of electronic devices
Fridges, freezers and air conditioners will need to be degassed before they can be removed. Not to worry — our expert technicians will behttps://www.wmwaste.com.au/hard-waste-collection/tv-smartphone-and-computer-recycling/ happy to do the job for you.
The most reliable waste management and removal service in Ferny Creek
WM Waste Management Services welcomes you to contact us today and let our friendly staff find your perfect solution.