Waste management services Doncaster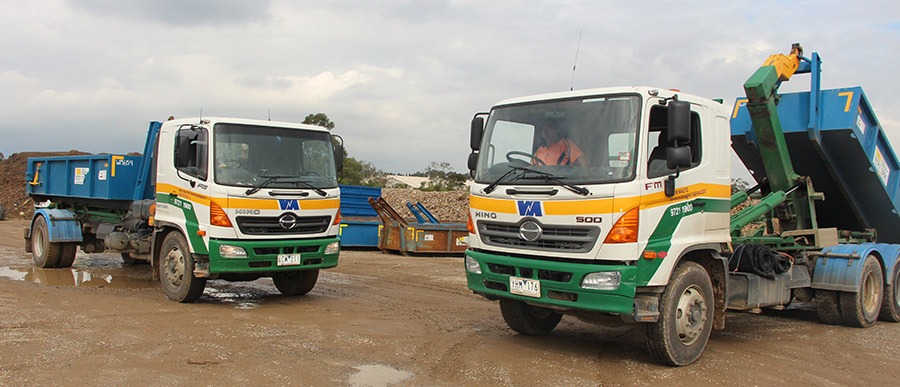 WM Waste Management Services is your trusted waste removal specialist in Doncaster.
We manage rubbish removal, hard rubbish collection, green waste removal, skip bin hire and more. With over 35 years of experience, WM Waste has established itself as a reputable waste management service for our Doncaster and greater Melbourne residents.
Reliable. Thorough. Efficient. Our service makes us the first choice for all things waste removal and recycling! If you have unwanted rubbish, furniture, white goods, or green waste that cannot be disposed of in a council bin, then we are the ones to call.
At WM Waste Management Services, we make short work out of your rubbish disposal.
Get a waste removal service you can rely on. Call WM Waste Management Services on 1300 260 872. Need skip hire in Doncaster? We'll deliver it to you fast. Get an instant quote.
Got a pile of junk to get rid of? We make it easy. WM Waste will clear and remove your rubbish and green waste with our quick & easy rubbish collection in Doncaster.
Our dedicated team of over 50 waste removal experts work in your area every day to remove unwanted trash and to keep the Doncaster and surrounding Manningham Council suburbs clean.
Our range of Doncaster rubbish removal services include:
Hiring a skip bin in Doncaster
When you're looking to organise a rubbish collection in Doncaster, it makes sense to hire a skip bin. You can fill your skip with the following items:
Wood, plaster, metal
General household waste
Green waste
Tiles, bricks, concrete
While we make every effort to get rid of all your needed waste, there are some things that cannot go into a skip. These include:
Asbestos
Chemicals
Liquid waste
Paint
Oil
Food waste
Tree stumps
Tyres
Gas bottles or gas tanks
If you need assistance deciding what you can and can't get rid of, please call us on 1300 260 872 or contact us online.
Doncaster rubbish removal and waste management services
Get the fastest, easiest and best rubbish removal services Doncaster has to offer! At WM Waste Management, we are dedicated to providing a stress-free service for our Doncaster customers.
Whether you're a business or residential property, we can remove your rubbish and provide skip bins at your convenience. We have a range of skips suited for small jobs right through to large walk-in bins for commercial waste.
Depending on the type of waste you need to get rid of, we have different bin dimensions which are suitable.
The categories of waste are:
Light and mixed—wood, plaster, tin, household items, and green waste
Heavy—tiles, bricks, concrete, and soil
Concrete—for 100% concrete removal
Soil—for 100% clean soil removal
We make skip bin hire affordable by offering reduced rates for the removal of 100% concrete or 100% clean soil. To improve our waste management, WM Waste follows sustainable practices and recycles all forms of hard refuse.
Understanding our clients are our most valuable asset, we always strive to improve our waste removal process and skip bin hire process. We do this by using a combination of affordability, attention to detail, and supreme customer service.
When you choose WM Waste Management Services for your Doncaster hard rubbish and green waste collection, you're getting:
Convenience: We strive to provide same day or next day skip delivery at the convenience of our customers. We make hiring a skip bin simple and offer instant quotes online so you know exactly how much you'll be paying.
Professionalism: Our staff are passionate about their job, customers and environment. WM adhere to all industry OH&S standards and ensure full compliance with all council regulations.
Top-tier service: We'll work hard to find the best solution to remove your waste. From flexible tailored solutions to our responsiveness and can-do attitude, we're here to make your life easier.
WM Waste Management Services provides a solution for every situation. We're on call to provide quality waste management and removal with specialised services in high-volume waste removal, kerbside hard rubbish collection, multi-site waste collection and more.
What waste management problem are you facing today? Let us help.
For rubbish removal and skip bin hire Doncaster-wide, get in touch with WM Waste Management Services today so we can help provide you with a quick, easy and affordable solution.