Comprehensive Hassle-Free Waste Management Services Cheltenham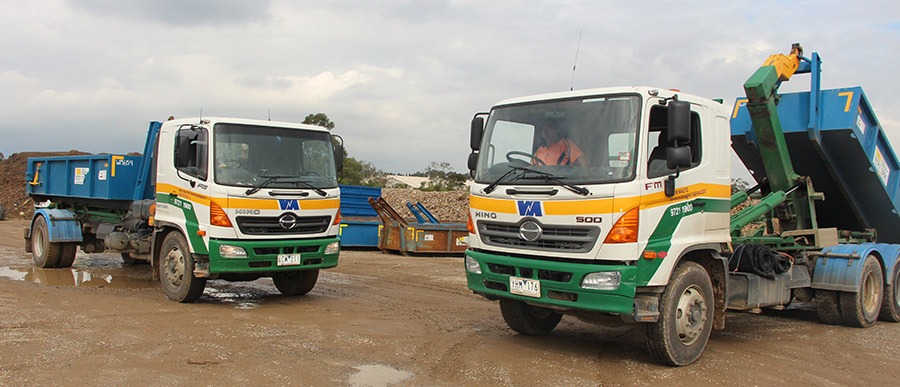 WM Waste Management has provided the Cheltenham community with reliable rubbish removal services since 1985. We are your waste management experts offering skip bin hire for hard rubbish and green waste removal, mattress collection and recycling or solid waste disposal. No cleanup job is too big or small for our professional team.
Need hard rubbish collection or skip bin hire in Cheltenham? Call WM Waste on 1300 260 872. For skip bin hire prices, get an instant quote now.
As part of the Kingston City Council, you are entitled to one free hard rubbish collection of up to 2 cubic metres in September/October each year. There are strict guidelines around rubbish removal with the council. Firstly, this is only for residential properties, and the following material is not accepted:
Building materials and chemicals such as rubble, cement, bricks or plasterboard
Any items over 1.5m in length and 55kg
Tyres and batteries
Tree stumps
Soil
WM Waste disposal offers excellent, friendly service at any time to meet all of your rubbish removals and skip bin hire needs in Cheltenham Vic 3192.
Get A Skip Bin Hire Permit in Cheltenham
If you need to put your skip bin on council property such as a road, nature strip, or footpath, you require a council permit to comply with their regulations and avoid expensive fines. Luckily our experienced, reliable team have this detailed process covered for you, so you don't need to worry.
WM Waste Management Services has a strong relationship with Kingston City Council and is very familiar with their skip bin permit requirements. As a result, we can proficiently organise all appropriate documentation for you and advise on the most suitable skip bin size, from one of our mini skip bins to walk-in skip bins in Cheltenham. We work to enable you to enjoy a rubbish-free property swiftly and without any hassle.
What responsibilities do I have when hiring skip bins in Cheltenham?
Once you receive a skip bin permit, it is essential to clarify Kingston City Council's rules and regulations. These include:
Ensuring your skip bin does not affect the passage of cyclists, pedestrians or motorists.
Skip bins must be away from prohibited standing or parking areas.
Any rubbish stored in the skip bin must not rot or cause offensive odours.
Kingston City Council has a sliding permit fee scale depending on the length of skip bin hire time. With our reliable hard rubbish removal services, you can get rid of your commercial rubbish and mixed waste efficiently, without any hidden costs.
Why WM Waste Management is your #1 Cheltenham Rubbish Removal Service
WM Waste is an experienced leader in skip bin hire and hard rubbish collection across Melbourne and Victoria. We are dedicated to ensuring the streets of Kingston Council are kept clean and rubbish-free.
Our innovative Knox Transfer Waste Station is a testament to our passion for recycling and environmentally sustainable waste treatment options. For almost four decades, we have been providing high-quality waste removal services to homes and businesses in the area.
We offer unbeatable customer service and skip bin hire options in various sizes and waste types. So whether you require mattress collection and recycling, want to get rid of 2 cubic metres of green waste, or need to remove concrete and rubble from a large building site, we guarantee to make your skip bin hire process quick and easy.
Frequently Asked Questions
Council Jurisdiction
Kingston City Council rules and regulations apply to homes and businesses in the following suburbs:
Aspendale
Aspendale Gardens
Bonbeach
Braeside
Carrum
Chelsea
Chelsea Heights
Cheltenham
Clarinda
Clayton South
Dingley Village
Edithvale
Heatherton
Highett
Mentone
Moorabbin
Mordialloc
Parkdale
Patterson Lakes
Waterways
Rubbish Collection Cheltenham with WM Waste Disposal
We offer a reliable and comprehensive range of rubbish collection options to ensure that your residential or commercial property stays looking its best. We can remove garden waste, soil, mattresses, bricks, concrete, electronics and hard waste disposal.
Unfortunately, we cannot dispose of asbestos, dangerous chemicals or liquid waste, gas bottles, and other hazardous materials.
Today, get a free quote with WM Waste for Cheltenham rubbish removal and skip bin hire.
Choosing the correct skip bin size
At WM Waste, we offer an extensive range of skip bins for hire. From mini skip bins at two cubic metres to 23 cubic metres. To work out the correct bin size for your needs, fill in our easy instant quote form by providing your suburb and the waste type you'd like to remove, and you will receive a quote.
Alternatively, speak with our rubbish removal experts directly, and we can advise you of the best skip bin to use. We will ensure that you have the right bin delivered promptly and hassle-free.
For more about skip bin hire and hard rubbish removal services in Cheltenham, please speak to our friendly team on 1300 260 872.