Rubbish Removal Chelsea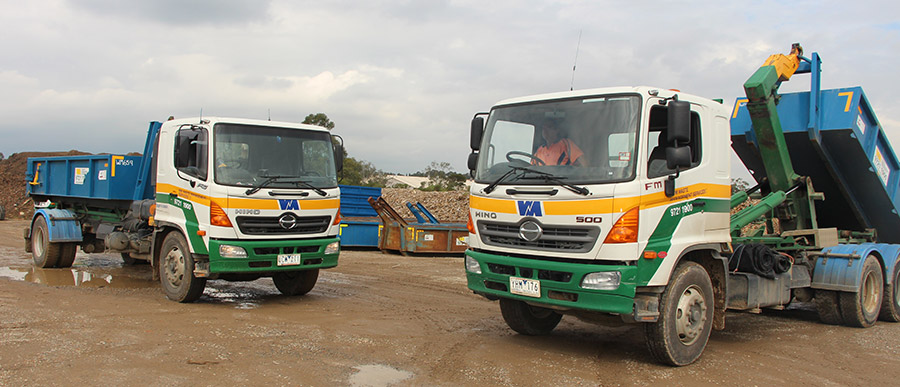 Affordable skip bin hire prices for your hard rubbish collection, Chelsea
Chelsea skip bins for homes & business
Your friendly rubbish removal experts at WM Waste have serviced Melbourne and the Mornington Peninsula for over 40 years. With our wealth of experience, you can rely on us to provide convenient, cost-effective hard rubbish collection and skips to handle all rubbish removals.
Kingston City Council offers one free hard rubbish collection each year in Chelsea, VIC 3196. However, there are strict limitations on the volume and types of waste collected. Additionally, this service is only for residential properties. Commercial businesses are excluded.
WM Waste's comprehensive rubbish removal services have you covered, no matter the scale or waste type you need to dispose of. Our reliable skip bin hire, Chelsea, makes it easy to get rid of everything from household rubbish, green waste and soil to building materials and large-scale commercial hard rubbish removal. Contact our professionals today for a free quote on hard rubbish collection, Chelsea.
We organise your skip bin permit
By law, you need a permit from the Kingston City Council when placing skip bins on council-owned land in Chelsea and its surrounding suburbs, such as a road or nature strip. However, the council only issues these permits to licenced skip bin hire suppliers like ourselves.
Our highly experienced, knowledgeable team organise your skip bin permit without any hassles. Over the decades, we have developed a strong working relationship with the council enabling us to complete your permit application efficiently. This way, we can deliver a suitable bin hire faster so you can be free of all your hard rubbish, Chelsea.
Your responsibilities with skip bin hire, Chelsea VIC, 3196
You need to follow specific regulations when hiring skip bins in Chelsea, including ensuring your skip hire does not obstruct any footpath or road and that you don't overfill it. All debris placed inside skips needs to be secured so that it is not easily dislodged.
Our professional team will carefully position your skip bin following the VicRoads Code of Practice as part of our comprehensive, excellent service. However, you must ensure your skip bin stays in the correct place throughout your hire.
Contact us today to learn more about our excellent service and skip hire, Chelsea, VIC, 3196.
Why choose WM Waste Management Services?
WM Waste Management is a proud family-owned company servicing happy customers throughout Melbourne since 1985. During this time, we have become renowned as one of Australia's foremost rubbish removal and skip bin companies. Our expert team offers excellent service and affordable, environmentally-friendly rubbish removal services.
We provide the most extensive range of skip bins in Melbourne at competitive prices to meet every waste disposal need. With our quick and easy process, you can efficiently dispose of all your household and green waste, dirt, and building materials hassle-free.
Frequently Asked Questions
What are the waste removal requirements in Chelsea?
As a part of Kingston City Council, there are strict regulations on the amount and type of waste included in their hard waste collection. For example, they will not collect building materials, bricks, concrete, tree prunings, broken glass or bagged rubbish, and the list goes on. The rubbish removal limit is two cubic metres for your annual pickup, excluding trash from commercial premises.
At WM Waste, we understand when you're clearing your garage, building site or managing business waste, you need rubbish removal on a larger scale. Our convenient skip bins, rubbish collection and recycling services provide affordable solutions for all your waste management needs.
What type of rubbish can I get rid of in my Chelsea skip bin for hire?
You can clean your property efficiently with WM Waste's premium rubbish removal services. You can hire our skip bins to dispose of all types of residential and commercial waste, including

Soil and dirt
Green waste and grass clippings
Construction waste such as concrete, scrap metal, bricks and rubble
Electronic waste
Hard rubbish, such as doors and furniture
Some dangerous waste types not included in our waste removal services:
Chemicals or other liquid waste
Paint
Oil
Asbestos
Tree stumps
Tyres
Gas bottles.
If you have questions about your hard rubbish removal, Chelsea, contact our friendly team for advice.
How do I choose the right size skip bin for waste collection in Chelsea, VIC?
We have an extensive skip bin size range to meet all your waste disposal needs. Our skip bins extend from mini skips (one cubic metre) to large walk-in bins (23 cubic metres). We understand that estimating what skip bin size you need can be tricky. However, you don't need to worry with our experienced professionals offering expert advice on hard rubbish collection, Chelsea.
Contact us today for an obligation-free quote. First, we need your address and the waste types you'd like to dispose of. Then we can deliver an appropriate skip bin to you as soon as possible.
What are the different categories of waste you collect?
You can select from different waste types when you hire a skip bin in Chelsea, VIC. The categories are detailed below; if you need more clarification, just let us know.
Light and mixed – wood, plaster, tin, household items, and green waste
Heavy – tiles, bricks, concrete, sand and soil disposal
Concrete – 100% concrete removal
Dirt – 100% clean soil removal