Hard Rubbish Collection Carrum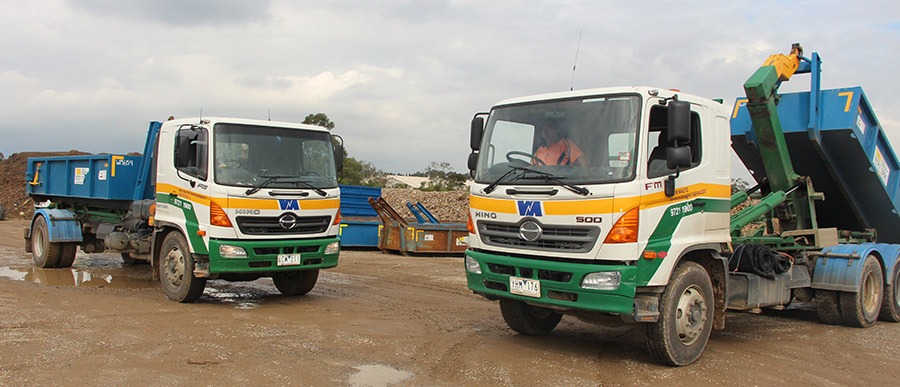 Skip hire Carrum for all your rubbish removal needs
Carrum skip bins for homes & business
Carrum and Clayton South residential properties fall within the Kingston City Council jurisdictions. You are entitled to one hard rubbish collection of two cubic metres each year. There are strict limits on the waste types they will collect. Additionally, this service excludes commercial and industrial businesses.
With an extensive range of skip bins for hire at WM Waste Management Services, you can get all scales of rubbish removed at any time that suits you. Our professional team also arrange council skip bin permits on your behalf to comply with council regulations.
So whether you need a skip bin hire for a large pile of green waste or large-scale commercial heavy rubbish removal, we're here to help. We provide convenient, competitively-priced waste management solutions. Fill in our online form for an instant free quote, or call us to order your rubbish removal from Clayton South or Carrum Downs today.
Get a permit for your Carrum skip bins
You don't need a permit if your skip bin hire is on your property. However, if you intend to place a skip bin on council-owned land (for example, a nature strip or road) in Carrum or Clayton South, you'll need a Kingston City Council permit. Unfortunately, the council only issue these to licenced skip bin hire suppliers like ourselves.
With our experienced professionals, you don't need to worry about a thing. For decades, we've done a fantastic job working with councils across Melbourne, including Kingston, to obtain a skip bin permit without hassle. This way, we can deliver your required bin hire to you sooner.
Responsibilities
When you hire a skip bin in Carrum, it is essential to check the specific council regulations to avoid hefty fines. Your skip hire should not obstruct any footpaths or roads and needs to have reflective tape on the edges to be seen at dawn and dusk. All rubbish placed inside the skip should be secure and not easily dislodged.
We will position skip bins following the Vic Roads Code of Practice. However, you must ensure the skip bin stays in the correct place until collection. If you are unsure about anything during your skip hire, get in touch with our expert team, who will be happy to help.
Why choose WM Waste Management Services?
Since 1985, our family-owned company has kept streets and properties throughout Melbourne clean. Over the decades, we have developed innovative, sustainable waste management and recycling initiatives to reduce landfill.
No matter the scale of your waste disposal job, we can meet your needs with our extensive range of skip bins. So book your skip bin hire Clayton South today, and you can efficiently dispose of your green, hard and commercial waste in no time.
Click here to find out more about our excellent service and hassle-free skip hire, Carrum, VIC.
Frequently Asked Questions
What are the waste removal requirements in Carrum?
As a part of Kingston City Council, there are strict regulations on the amount and type of waste included in your Carrum or Clayton South hard waste collection. For example, they will not collect building materials, bricks, concrete, tree prunings, broken glass or bagged rubbish, and the list goes on. The rubbish removal limit is two cubic metres for your annual pickup, excluding trash from commercial premises.
WM Waste Management is renowned as a leading rubbish removal and skips company that guarantees excellent service, streamlined processes and cost-effective rubbish removal. With our comprehensive range of skip bins, rubbish collection and recycling services, we provide cost-effective solutions for all your waste management needs, no matter the scale.
What type of rubbish can I get rid of in my Carrum skip bin for hire?
WM Waste's superior rubbish removal services make disposing of all types of residential and commercial waste easy. We collect the following items.

Soil and dirt
Green waste and grass clippings
Construction waste such as concrete, tiles, bricks and rubble
Electronic waste
Hard rubbish, such as old furniture or fridges
Some dangerous waste types not included in our rubbish removal services:
Chemicals or other liquid waste
Paint
Oil
Asbestos
Tree stumps
Tyres
Gas bottles.
Contact our friendly professionals today to book your skip bin hire or hard waste collection at Clayton South or Carrum, VIC.
How do I choose the right size skip bin for waste collection in Carrum?
We have Melbourne's most extensive skip bin size range to meet every waste disposal need. From our mini skips (one cubic metre) to large walk-in bins (23 cubic metres), we're here to make even the biggest clean-up job in Clayton stress-free and easy.
Contact us for an obligation-free quote on hard rubbish collection, Carrum. Enter your address and the type of waste you need to remove. Then we'll deliver a suitable skip bin to you straight away.
What are the different categories of waste you collect?
Most waste types are accepted when you hire a skip bin in Carrum or Clayton South, VIC. The categories are detailed below. Book your skip bin today.
Light and mixed – wood, plaster, tin, household items, and green waste
Heavy – tiles, bricks, concrete, sand and soil disposal
Concrete – 100% concrete removal
Dirt – 100% clean soil removal