Cheap Rubbish Removal Services Blackburn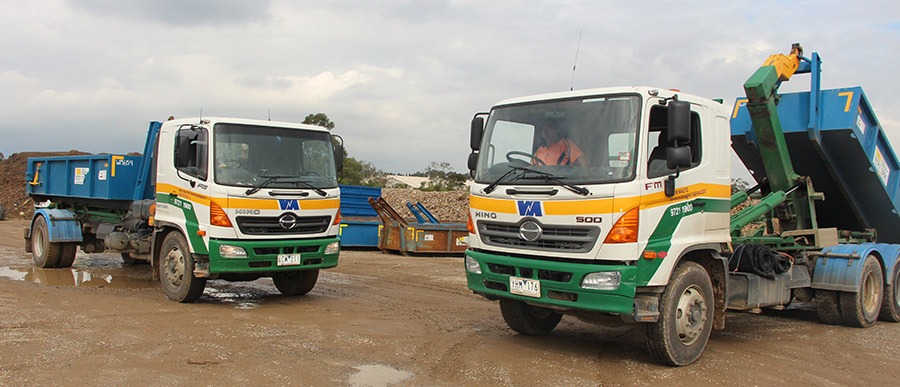 Blackburn skip bin hire for your home or business
Do you have a pile of garden waste, building materials or other hard rubbish that needs to be removed? With our comprehensive bin hire services in Blackburn, we can organise efficient and cost-effective residential and commercial rubbish removal anytime you need it.
As a resident of Whitehorse City Council, you are entitled to up two hard waste collections of 3 cubic metres each year. But strict council regulations and timeframes don't always fit your waste disposal requirements, especially if you have commercial waste that the council doesn't cover.
We are your rubbish removal experts. We're knowledgeable about all Whitehorse City Council permits and regulations. Our professional team will organise everything so you won't have to worry.
For excellent service and no hidden costs, call us on 1300 260 87. We've got all your skip bin hire, and hard rubbish removal needs sorted. Looking for rubbish removal costs in Blackburn? Contact us for an instant bin quote today.
Do I need a permit for skip hire Blackburn?
If you're placing a skip bin on your property, you don't need a council permit. However, any skip bins placed on the road or council-owned land, such as nature strips, require a skip bin permit. Whitehorse City Council will only issue licences for skip bins to accredited skip bin contractors such as ourselves.
WM Waste is covered by at least $10 million in public liability insurance. When you hire a skip bin through our professional team, you don't need to worry about complicated paperwork or logistics. Order your skip bin online or speak with our rubbish removal experts. We can arrange same-day delivery on skip bins for cost-effective disposal.
What are my responsibilities with skip bin hire Blackburn?
When hiring a skip bin, you need to be mindful of adhering to the Whitehorse City Council Code of Practice for roadside placements. We ensure that skip bins are placed safely and do not obscure the road or bus stops. However, you must ensure that it stays in place and that all the rubbish inside your skip bin is secured and not easily dislodged.
Why Choose WM Waste Management Services?
WM Waste is a family-owned business that has been at the forefront of Melbourne's waste management industry for nearly four decades. We're passionate about providing a top-quality skip bin hire service and ensuring environmentally-friendly waste disposal. We offer comprehensive, cheap rubbish removal services in Blackburn:
Skip bin hire with an instant, free quote
Green waste rubbish collection and recycling
Hard rubbish removal, including scrap metal and building materials
Mattress removal and recycling
Contact our professional team for your junk removal needs today and get a free quote on your bin hire service. With WM Waste, there are no hidden costs; only reliable hard rubbish removal.
Frequently Asked Questions
What are Whitehorse City Council's skip bin permit regulations?
The Whitehorse City Council only issues permits for skip bins to accredited skip bin contractors.
WM Waste are current permit holders and frequently the 'go-to' company for large-scale council rubbish removal throughout Melbourne. So if you have already used up your two annual hard rubbish collections from the council or their rubbish removal options don't meet your needs, we are here for you!
With our outstanding service, you don't need to worry about anything. We arrange prompt delivery of skip bins of all sizes to enable efficient household and commercial rubbish removal.
What type of rubbish do you remove?
We offer premium rubbish removal and waste management services at the most competitive price. We can remove most household and commercial waste, including green waste, soil, electronics, concrete, rubble and other junk removals. We will also ensure that all waste disposal occurs in the most environmentally friendly way.
Unfortunately, there are some hazardous items that we cannot accept in our rubbish removals, including:
Asbestos
Paint
Chemicals or liquid waste
Oil
All types of food
Tree stumps
Tyres
Gas bottles
If you have any rubbish removal questions, contact our experts on 1300 260 872 or arrange for an instant free quote today.
What size skip bins do you offer for hire?
We're here for you if you want cheap rubbish removal services. If you have a small to medium amount of rubbish to remove, whether it's garden waste, hard scrap or building materials, we'd recommend our mini skip hire (2 cubic metres), or four cubic metre size skip bins.
For larger-scale commercial rubbish removals, we have a wide range of large skip bins, including walk-in skip bins up to 23 cubic metres. This type of skip hire is an excellent option for removing all the rubbish and green waste involved in moving house or when you need to clean up large amounts of scrap metal rubbish. With our superb skip bin hire service and same-day delivery, you can rely on us to make your junk removal a breeze.