Waste management services in Berwick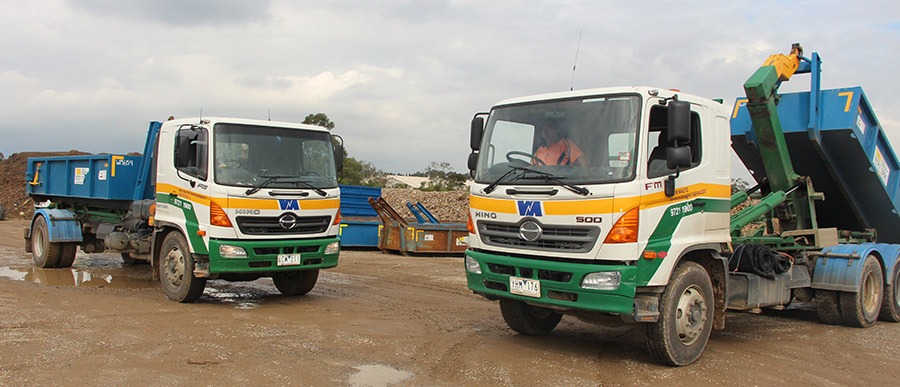 Seeking quality waste removal and skip bin hire in Berwick?
At WM Waste Management Services we are proud to be known as a trusted name in waste management in Berwick. We manage rubbish removal, recycling, hard rubbish, green waste disposal and skip bin hire for residents and businesses across Berwick.
Our efficient service makes us the first choice for disposals of white goods, solid waste, green waste, mattress disposal, and more. If you have rubbish that won't fit your regular rubbish collection and you want it gone, we are the people to call. When you choose us, you make short work of getting that unwanted rubbish gone for good.
For rubbish removal you can rely on, call WM Waste Management Services on 1300 969 278. Need a skip bin in Berwick fast? Get an instant quote.
Our dedication to rubbish removal in Berwick has given us the reputation of being a trusted name in waste management. We employed a dedicated team of over 50 people, working in your area every day to remove the unwanted trash cluttering up your home, business or job site.
Our range of Berwick rubbish removal services include:
Hiring a skip bin in Berwick
When you want to organise waste disposal in Berwick, and it won't fit in with your regular collection, it makes sense to hire a skip bin. You can fill your skip bin with things like:
Wood, plaster, and metal
General household waste
Green waste
Tiles, bricks, concrete
While we can take plenty of rubbish there are some things we simply cannot take in a skip bin, including:
Asbestos
Chemicals
Liquid waste
Paint
Oil
Food waste
Tree stumps
Tyres
Gas bottles or gas tanks
If you would like to know more about Berwick waste disposal, please call us on 1300 969 278, or contact us online.
Berwick waste removal and management from WM Waste Management
At WM Waste Management, we are dedicated to offering stress free waste removal in Berwick. We do this using a combination of affordability, attention to detail, and supreme customer service.
Convenience: Get rid of that rubbish once and for all. We make hiring a skip bin simple and offer online quotes so you know exactly how much your rubbish removal will cost.
Services: Hard rubbish, green waste, white goods, couches and more; if you have rubbish to get rid of we can help. We offer a range of services including cheap skip bin hire to make short work of your rubbish removal needs.
Recycling: You can be assured of our commitment to disposing of your rubbish appropriately. We are dedicated to environmental protection and ensure correct rubbish management in all aspects.
Innovation: Our team are leaders in rubbish removal innovation and are always looking for the best new ways to dispose of rubbish.
For rubbish removal and skip bin hire Berwick wide, get in touch with WM Waste Management Services today.