Waste management services in Bentleigh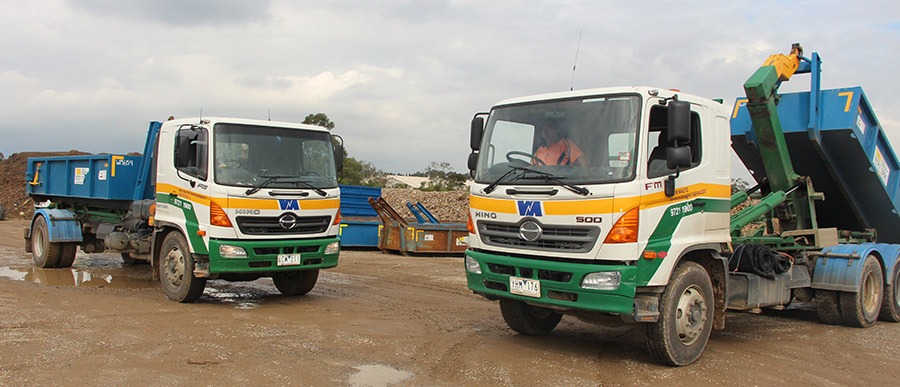 With over 35 years of experience, WM Waste Management Services are the go-to people for rubbish collection in Bentleigh and the surrounding suburbs. From our hub in Boronia in Melbourne's southeast, we provide seamless rubbish removal at both businesses and residential properties when you need it the most. Along with regular rubbish collection, we offer services including skip bin hire, green waste removal and hard waste collection.
Skip bin hire Bentleigh
Are you doing work around your home or business? We offer skip bin hire in Bentleigh to help you clear waste that's too big for council rubbish collection, or outside of collection times. If you need your rubbish gone ASAP, skip hire is an efficient, cost-effective solution to get it done.
You can hire a skip to get rid of:
Building materials like wood, plaster, metal, tiles, concrete etc.
General household waste
Garden clippings and other green waste
Please note, we are unable to dispose of toxic substances or dangerous goods such as:
Asbestos
Chemicals or liquid waste
Paint
Oil
Tyres
Gas tanks or bottles
Ready to hire a skip bin? Get an instant quote.
Green waste removal Bentleigh
If you're doing work around the garden and have filled up your council green bin, WM Waste Management Services offer two convenient options for green waste removal in Bentleigh and the surrounding area.
If you have a moderate amount of green waste ready and waiting, we can come and collect it with our state of the art, electric vehicles. If you are doing ongoing yard work or have a large amount of waste for collection, we can deliver a green waste skip bin to your property to allow you to work at your own pace.
Here are some of the types of green waste we collect:
Grass clippings
Branches
Garden Pruning
Leaves
Weeds
Hedge trimmings
There are some types of outdoor and garden waste we cannot remove, including:
Plastic plant pots
Bricks and other construction materials
Stones and gravel
Once your waste is collected, we turn it into compost which is then donated to gardens and other public land to help new gardens thrive.
Hard waste collection Bentleigh
If you have hard rubbish needing collection, look no further than the best in Bentleigh. When it comes time to upgrade your appliances or home furnishings, we can make short work of them with our hard rubbish collection services.
We can dispose of bulky hard rubbish including:
Sofas and other furniture
Mattresses and bed frames
Regular e-waste such as washers, dryers, TVs and computers
Other e-waste such as fridges, freezers and air conditioners (these particular electronics need degassing which is performed by our trained technicians)
As of 1 July 2019, the Victorian government has banned all e-waste from being sent to landfill. Via our sister company KTS Recycling, we can pick up e-waste and divert it away from landfill.
We are unable to accept some items with hard rubbish collection, including:
Liquids
Chemicals
Petrol
Paint
Asbestos
Book a hard rubbish collection or give us a call on 1300 969 278.