Affordable skip hire in Beaumaris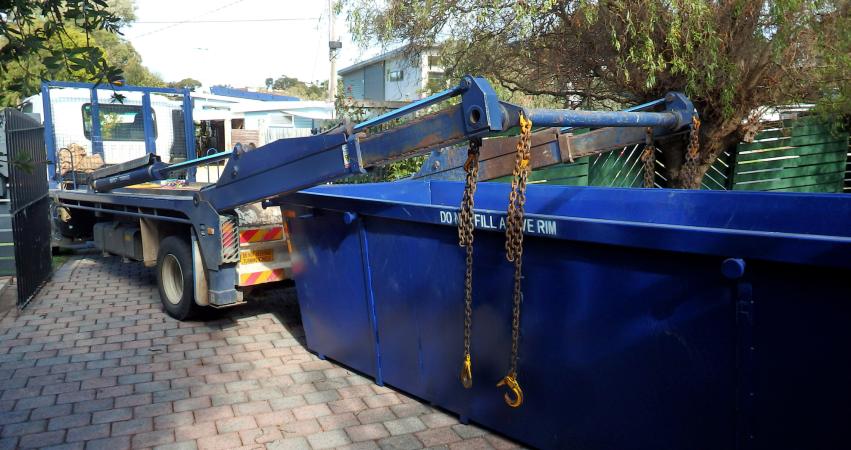 Comprehensive Beaumaris residential and commercial skip bin hire
WM Waste provides convenient, affordable rubbish removal and skip bins in Beaumaris. Why be restricted to the Bayside City Council hard waste collection allocations when we can arrange same-day delivery of skip bins to your property at a great price?
So whether you're having a spring clean and need to get rid of general waste or you're looking to clear an entire building site, we have an extensive range to meet your skip bin hire needs. With WM Waste's excellent service, we are your premier waste management company in Beaumaris and across Melbourne.
Call our friendly team on 1300 260 872 for a free quote or order skip bins online today.
Beaumaris permits for your skip bin hire
The Bayside City Council requires permits for all skip bin hires within Beaumaris that will be positioned on council property, such as on a nature strip. However, they will only issue these permits to registered rubbish removal companies like ourselves. So when you hire WM Waste skip bins, you don't need to worry about skip bin permit applications; we'll take care of the whole process for you.
With our competitive skip bin prices and comprehensive waste disposal services, why look anywhere else? WM Waste's excellent service will ensure that you have a bin hire permit for your property and that your skip bin arrives on the same day or at your convenience.
Your responsibilities with skip bin hires in Beaumaris
There are terms and conditions that you must adhere to with all skip hire in Beaumaris. Our waste removal experts are familiar with these council requirements and will ensure that your skip bin position aligns with the VicRoads Code of Practice.
Throughout your Beaumaris skip bin hire duration, you must keep the bin secure, ensuring that it doesn't move and that all hard rubbish and green waste stays in the skip bin. At any time, you can call our friendly, experienced team if you have queries about your skip bin hire.
Are you thinking of hiring a skip in the Beaumaris area? Look no further than WM Waste Management Services. Click here to get a free quote and book online today.
Why WM Waste Management for bin hire in the Beaumaris area?
WM Waste has been a leader in the waste management field throughout Melbourne since 1985. We are a family-owned business with a highly experienced team passionate about providing innovative, efficient rubbish removal services. Through our established partnership with Knox Transfer Station recycling facilities, we do our best to reduce the amount of landfill rubbish and enable recycling wherever possible.
With our vast range of bin sizes and competitive skip bin prices, we'll save you time and money with your waste removal. We deal with all waste types, from building waste such as concrete, tiles, bricks and other heavy waste to general waste and grass clippings. No job is too big or small for our professional, friendly team. So choose the skip bin hire Beaumaris home-owners and property managers rely on for fast, friendly, affordable rubbish removal.
Frequently Asked Questions
What are the hard rubbish collection guidelines for Beaumaris?
There are strict guidelines for Beaumaris skips and waste collection, including a collection size limit of four cubic meters and a maximum of two hard waste collection bookings per year for residential properties.
Commercial businesses and industries are not part of this waste management service. However, because we have the permit for skip bins of all sizes, from mini to bulk bins and are experts in the appropriate disposal of most waste types, you can rely on us to deliver the right bin fast anywhere in the Beaumaris area and throughout Melbourne.
What waste types can I place into your MW Waste's skip bins?
WM Waste offers our customers an extensive range of rubbish removal options to enable you to clear your residential or commercial property efficiently. Hire our skip bins to get rid of a wide variety of residential and commercial waste, including:

Old furniture and furniture pieces
Soil, grass clippings and green waste
Building waste, including scrap metal, concrete, bricks, tiles and rubble
Electronics
General household waste
Light waste
Recycling
Hazardous items not included in our rubbish removal services:
Chemicals or other liquid waste
Paint
Oil
Asbestos
Tree stumps
Tyres
Gas bottles
Medical waste
For more detailed information about our skips for hire in Beaumaris, our friendly team of waste removal experts are available to offer advice. Call today on 1300 260 872.
How do I know what skip bin hire to choose?
When you hire skip bins with WM Waste, you can rest assured that we have a skip bin to meet your needs. We have a bin size for everyone with skip bins from one cubic metre to 23 cubic metres. We collect most waste types, and our comprehensive skip bin hire services will make your waste removal process hassle-free.
For great service that you can rely on, call our friendly team on 1300 260 872 or click here to get an instant obligation-free quote. Inform us of your location in Beaumaris, Brighton East or the Bayside area, what waste type you need to get rid of, and we'll organise a skip hire to meet your needs.